A cricket bat owned by Don Bradman during the controversial Ashes 'Bodyline Series' has been discovered at a New Zealand estate sale.
The historic bat is expected to sell for up to AU$35,000 (£25,000) when it goes up for sale at Leski Auctions in Melbourne on August 11.
As old rivals England and Australia start to battle it out once more this week, collectors will have the chance to acquire an artifact from one of the most famous Ashes series in cricket history.
In 1932 the England team travelled to Australia to reclaim the Ashes, having lost the previous series in large part to the spectacular performance of Don Bradman, regarded as perhaps the greatest batsman in cricket history.
In order to combat Australia's formidable line-up, England captain Douglas Jardine ordered his fast bowlers to bowl directly at their bodies, forcing them to protect themselves rather than play their regular game.
The tactic, which became known as 'Bodyline', was seen as both highly aggressive and potentially dangerous, causing anger amongst the Australian team.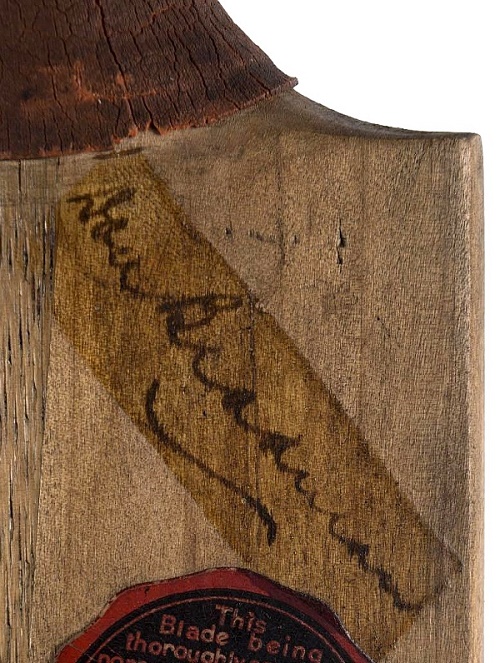 But it also proved highly effective, as Bradman and the other leading batsmen were prevented from scoring heavily, and Australia lost the series 4 – 1.
At one point during the series Australian captain Bill Woodfull confronted England manager Pelham Warner, stating "There are two teams out there. One is playing cricket; the other is making no attempt to do so."
In response to the hostility, England captain Jardine famously replied "I've not travelled 6,000 miles to make friends. I'm here to win the Ashes".
England did just that, but in doing so caused diplomatic tensions between the two nations, and the 'Bodyline' bowling tactic eventually led to a change in rules to render it less effective.
The bat offered by Leski Auctions is a Wm. Sykes "Don Bradman Autograph" bat, the model which Bradman used and promoted throughout his career.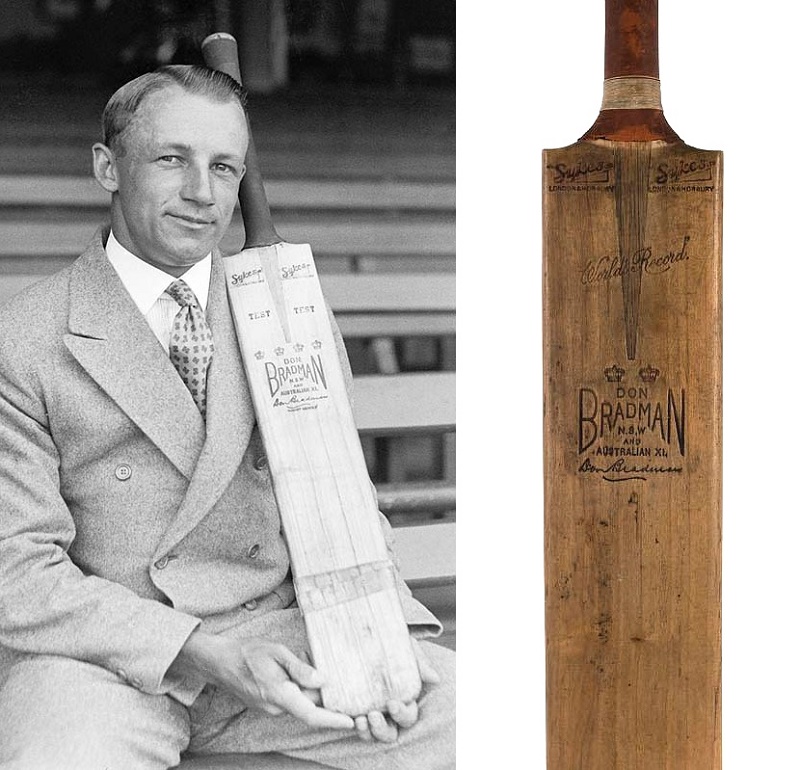 It bears Bradman's own signature in the 'ownership' position, along with the autographs of 16 members of the England 1932-33 Ashes squad including that of captain Jardine.
Although the bat can't be linked to any specific innings throughout the series, it bears signs of obvious use; and Bradman was known to only acquire signatures on bats he had personally used.
According to a report in The New Zealand Herald, the bat was discovered by unemployed New Zealand man James Sanders, who purchased it at an estate auction for a few hundred dollars.
"If there had been any die hard cricket fans there I would have had a battle to get hold of it. Somehow it slipped through the net and I ended up with it," said Sanders.
"I knew it was something special but I got really excited when I got it home and realised he [Bradman] had owned it.
"That elevated it from being pretty cool. The greatest cricketer of the 20th century, the biggest event in the history of cricket, that's the Holy Grail right there.
"I certainly didn't have a hit with it. I just put it in the corner of my bedroom for safekeeping."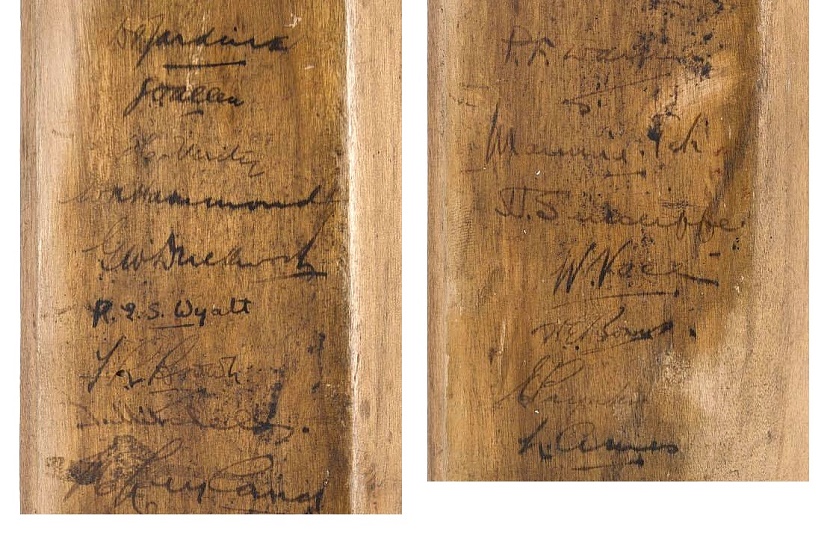 It remains unknown how the historic bat ended up in New Zealand, although following their Ashes victory the England team travelled there to play two matches.
One theory is that Bradman gave his bat to the team to sign, and having passed it round, they accidentally took it with them when they left Australia.
Having now returned home, the bat is likely to cause quite a stir – particularly on the eve of the current Ashes series, which begins in England this week.
And for the man who found it after all these years, the cost of a few hundred dollars now looks like a bargain.
"I'm between jobs and had a bit of cash to spend from my redundancy and thought this would be a good investment," Mr Sanders told the Herald.
"I wasn't tempted to keep it – I only had it for 10 days. There is the financial aspect of course, but I had no emotional attachment and I think the bat really belongs in Australia."