The shirt worn by football legend Diego Maradona during the 1986 World Cup 'Hand of God' match is heading for sale at Sotheby's.
Maradona wore the shirt as he scored two of the most famous – and infamous – goals in football history.
And now it's set to auction for the very first time, with an estimate of £4 – £6 million ($4.79 – $7.18 million).
That estimate would make the shirt the most valuable piece of football memorabilia ever sold.
And it could also break the record for any sports jersey, set back in 2019 when a 1928 game-worn Babe Ruth baseball jersey sold for $5.64 million.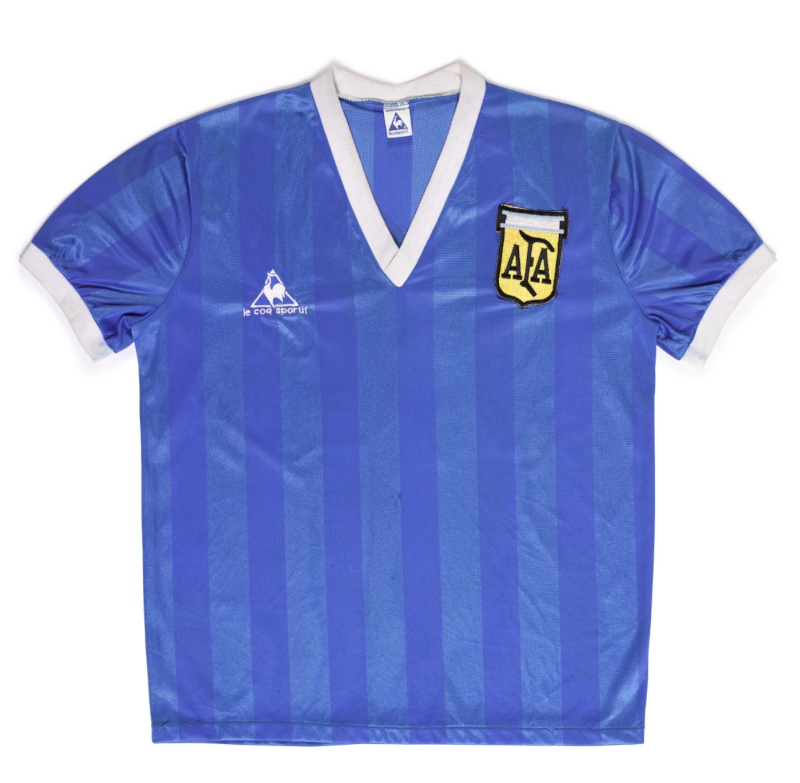 Today Diego Maradona is remembered as a true sporting icon, and one of the greatest players in football history.
During the 1986 World Cup quarter final match, in which Argentina beat England 2-1, he scored both goals.
His first is known as the 'Hand of God' goal, as he illegally punched the ball into the net with his hand past the leaping England goalkeeper Peter Shilton.
And his second, in which he dribbled past almost the entire England team before slotting past Shilton again, was voted as 'The Goal of the Century' in a 2002 FIFA poll.
For over 35 years the iconic shirt has belonged to former England player Steve Hodge, who swapped it with Maradona after the game.
He recalled the moment in an interview with FIFA:
"I thought, I won't be here again. I'll try and get a shirt… I went down, behind the goal, to the changing rooms… As I went down, Maradona was walking with two of his team-mates. I looked him in the eye, tugged on my shirt as if to say 'any chance of swapping?', and he came straight across, motioned a prayer, and we exchanged shirts. And that was it. It was just as simple as that."
Since 2002 the shirt has been on loan to the National Football Museum in Manchester. And Hodge even jokingly titled his 2010 autobiography 'The Man with Maradona's Shirt'.
The game came just a few years after England had fought Argentina in the Falklands War, and for many players the intense rivalry went far deeper than a simple football match.
"It was like beating a country, not a football team," Maradona later wrote in his autobiography.
"Although we said before the game that football had nothing to do with the Malvinas War, we knew that a lot of Argentine kids had died there… this was our revenge. We all said beforehand that we shouldn't mix the two things but that was a lie. A lie! We didn't think of anything except that, like hell it was going to be just another game!"
With its political connotations, as well as its incredible history on the field, Maradona's shirt is arguably the most iconic football shirt in history.
And it seems likely to achieve an equally historic price when it goes up for sale at Sotheby's on May 4.