A treasure trove of McDonalds memorabilia is heading to Heritage Auctions next month, in one of the company's biggest-ever sales of pop culture memorabilia.
Over 300 lots will cross the block in Chicago on September 22 during the 'Art of Ronald McDonald and Friends' sale, featuring rare prototypes, models, concept artwork, architectural plans and more from the famous fast food chain's history.
The landmark auction will offer items from the archives of Setmakers, the company which created the first McDonald Playgrounds in the 1970s, along with a collection of original artwork by legendary theme park artist Wes Cook.
A portion of proceeds from the auction will also benefit the Ronald McDonald House charity, which provides housing and support for families with hospitalized children around the world.
"Ronald McDonald and his McDonaldland Friends represent some of the most beloved and well known pop culture icons across the globe," says Jim Lenz, Director of Animation Art at Heritage.
"This never before seen inventory from Archives of Setmakers, the company that brought the McDonaldland Playground and Ronald's Room to McDonalds in the 1970's and 80's around the globe, is something special."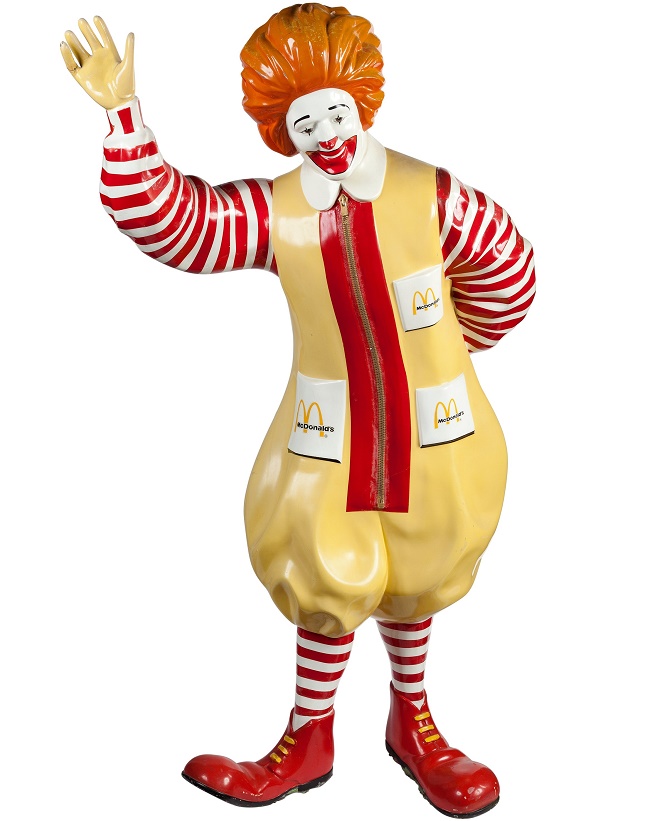 Alongside Coca-Cola, McDonalds is one of the world's most iconic brands, with a history which inspires nostalgia amongst devoted collectors.
"I think childhood memories of going to McDonalds with your family, and playing in their McDonaldland Playground, and eating in 'Ronald's Rooms' are long lasting happy memories for so many," says Lenz.
The market for vintage Happy Meal toys and promotional items is highly popular around the globe, but this sale will give collectors the first chance to own genuine and unique pieces of McDonalds history.
The concept of McDonaldland was originally created in 1971 by advertising agency Needham Harper & Steers, and Setmakers founder Don Ament was tasked with bringing it to life on the small screen.
He initially built the set for the first McDonaldland TV commercial, which proved so popular that the company decided to bring the colourful fantasy world into reality with a series of themed playgrounds.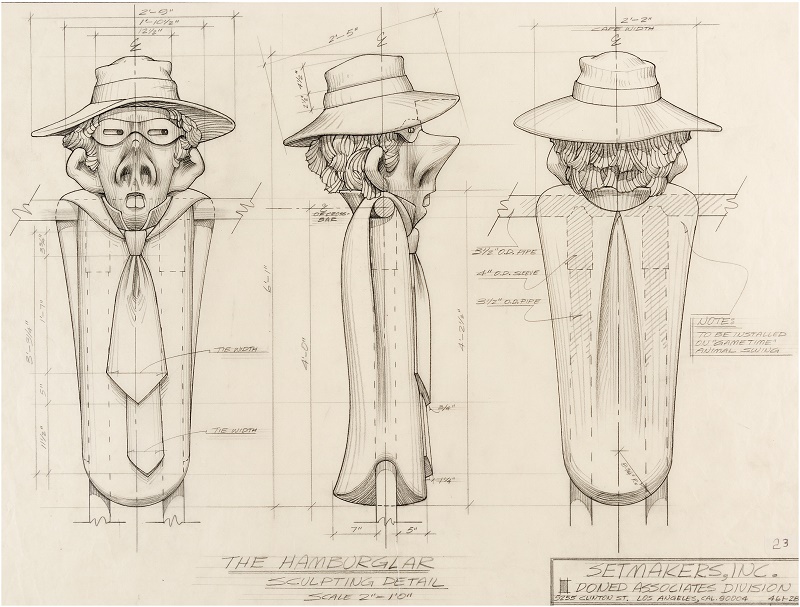 The world's first McDonald Playground opened at a restaurant in Chula Vista, California in 1971, featuring swings, slides, climbing frames, teeter totters and statues based on Ronald and his friends Officer Big Mac, Mayor McCheese, Grimace and The Professor, along with his arch nemesis Hamburglar.
Amongst the most historic lots on offer at Heritage is the original Ronald McDonald statue which stood at the entrance to that playground, until it was replaced in 1974 and kept safely in the Setmakers archives for 47 years.
Other notable lots created for the playgrounds include large prototype statues of Mayor McCheese, Officer Big Mac, Captain Crook; an original maquette for the Thick Shake Mountain slide; early concept drawing for the Hamburglar swing set; and a unique fiberglass model of a hamburger from a McDonaldland Hamburger Patch.
As designed by Setmakers, the Chula Vista playground was a huge hit and the concept took off. By 1977 there were 100 McDonaldland playgrounds in restaurants around the U.S, and just four years later in 1981 that number had soared to 600, including 19 locations overseas.
It wasn't long before Ronald and his friends were making their way inside the restaurants, with the introduction of themed Ronald's Room playrooms in the early 1980s.
The rarest piece in the entire sale is a unique prototype Ronald McDonald high chair that Setmakers designed for use in stores across the U.S. The chair was eventually turned down by McDonalds as it was too expensive to mass-produce, and this original prototype remains the sole example in existence.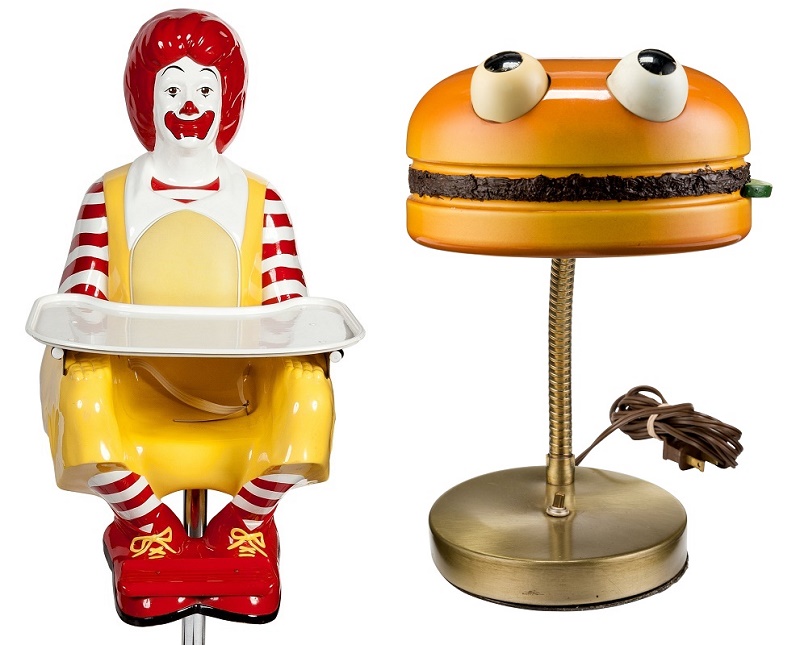 Further notable playroom pieces will include a prototype Hamburglar tabletop statue, a unique prototype Hamburger desk lamp, and a large selection of one-off hand-painted wall plaques and etched glass panels.
One of the most striking features of those playrooms were huge hand-painted murals which filled the walls, based on original sketches and designs by artist Wes Cook.
Cook, who passed away in 2005, was regarded as one of the finest theme park concept artists in the industry.
Having begun his career working on the classic Sid and Marty Kroft TV shows 'The Banana Splits' and 'H.R Puffenstuff', Cook later became a Walt Disney Imagineer and designed major parts of Disney's Tokyo Seven Seas.
He also served as the creative force behind the Dr Seuss-themed Seuss Landing at Universal Studios Island of Adventure in Orlando, Florida, and designed highly popular Tiki-themed attractions of San Diego's Sea World.
But it is Cook's work as Creative Art Director for Setmakers, and his remarkable artwork featuring Ronald McDonald and Friends, which perhaps left the biggest lasting impression on generations of children and adults alike.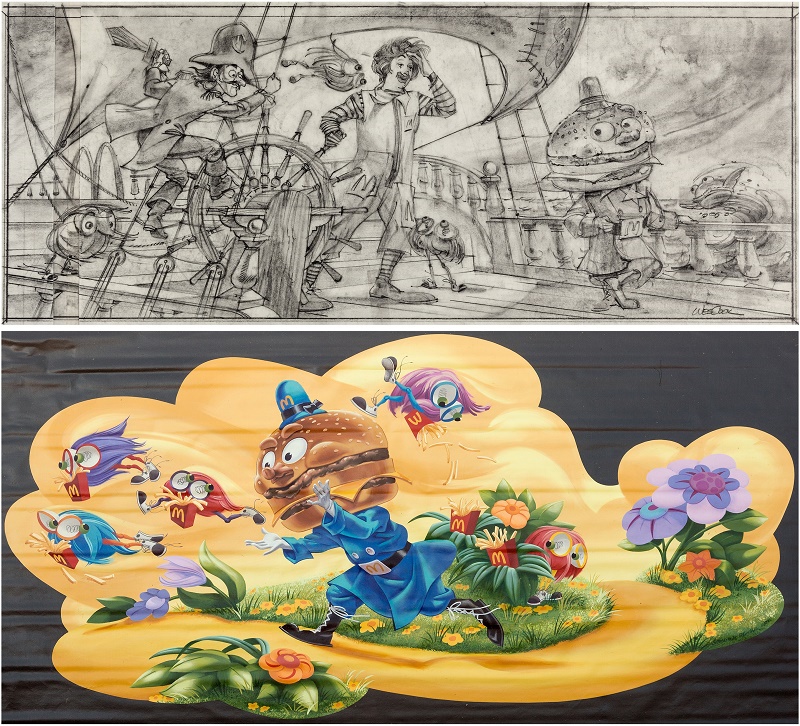 The Heritage sale will feature the largest collection of Wes Cook artwork ever offered at auction, all of which has remained completely unseen since its creation over 40 years ago.
"The detailed original one of a kind artwork, never seen before, from the hand of legendary Disney Theme Park artist Wes Cook are amazing," says Lenz. "His graphite drawings for interior murals and interior décor are pure pieces of pop culture history."
With the McDonaldland playgrounds and playrooms having played a part in the childhoods of literally millions of people around the world, the sale looks set to appeal to a broad range of bidders.
And with the market for vintage pop culture memorabilia riding high, competition could be fierce amongst collectors hungry for a slice of cultural history.
"Last year we held the auction for Knott's Berry farm Amusement, which was celebrating their 75th year, and that was a big hit," says Lenz. "Our 'Art of LAIKA Studios' a few years aback also was something of a sensation.
"We are hoping this 'Art of Ronald McDonald and Friends – The Set makers Collection' matches those auctions!"