A remarkable personal manifesto written by Bruce Lee will be offered for sale at Profiles in History this month, as part of a blockbuster sale of Hollywood memorabilia.
Entitled 'My Definite Chief Aim', the handwritten document lists Lee's career goals as he sought to become an international star in 1969.
The manifesto is a stunning example of Bruce Lee's ambition and drive to succeed, and is expected to fetch up to $80,000 when it hits the block on September 25.
Handwritten in red and blue ink, on a sheet of notepaper headed "Secret", the document reads in full:
"I, Bruce Lee, will be the first highest paid Oriental super star in the United States. In return I will give the most exciting performances and render the best of quality in the capacity of an actor.
"Starting 1970 I will achieve world fame and from then onward till the end of 1980 I will have in my possession $10,000,000. I will live the way I please and achieve inner harmony and happiness."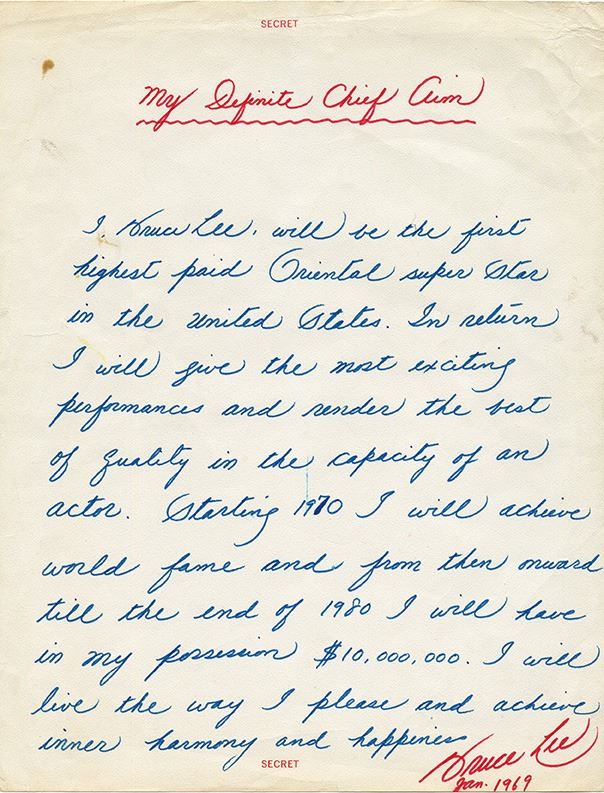 Lee wrote his manifesto in January 1969, during a period in which his acting career had stalled and his wife Linda was expecting their second child.
After spending years teaching martial arts in California and developing his own philosophy of Jeet Kune Do, Lee was cast as sidekick Kato in the TV show The Green Hornet, which ran for one season from 1966-1967.
He had enjoyed a successful career as a child actor in Hong Kong before his move to the U.S in 1959, and was hopeful that his role as Kato would lead to starring roles.
But instead he was reduced to the occasional guest appearance in shows such as Ironside, often playing the part of a stereotypical henchman.
Having unsuccessfully pitched proposals for TV shows and films around town, Lee was advised to return to Hong Kong and star in a film he could then use as a showcase for Hollywood producers.
He went on to star in three major hits – The Big Boss, Fists of Fury and Way of the Dragon – and was in the midst of filming Game of Death, when he received the call from Hollywood he was waiting for.
The result was the classic Enter the Dragon, which brought martial arts movies into the U.S mainstream and grossed $90 million
It seemed that Lee was finally well on the way to achieving his goals, but his life was cut tragically short on July 20, 1973 when he suffered a fatal allergic reaction to pain medication.
Following his death the handwritten manifesto remained in the possession of Lee's family for 20 years, before being consigned to auction in 1993 by his widow Linda as part of a landmark sale at Superior Galleries.
The document was the top-selling lot of the auction, achieving a price of $29,000, but has never been offered publically for sale since.
Today Bruce Lee is revered as both an iconic screen star and one of the most influential martial artists of all time.
The Profiles in History sale will offer fans the chance to own a significant piece of his personal history; one which illustrates his incredible drive and passion, and also serves as a bittersweet reminder of what could have been.