A book of poems believed to have been written by the notorious outlaws Bonnie and Clyde will be offered for sale at heritage in Dallas next month.
The handwritten journal is amongst a remarkable archive of material originally owned by Clyde Barrow's sister Nell May Barrow, and now consigned to auction by his surviving nephew.
In addition to the book, the archive includes four photo albums featuring images of the couple, many of which are unpublished, and a scrapbook assembled by Nell featuring newspaper clippings on their crimes and their death.
The archive will be offered by Heritage Auctions during the Americana and Political memorabilia Auction, which takes place in Dallas on March 30-31.
The poetry journal and the collection of photographic albums are each expected to fetch in excess of $15,000.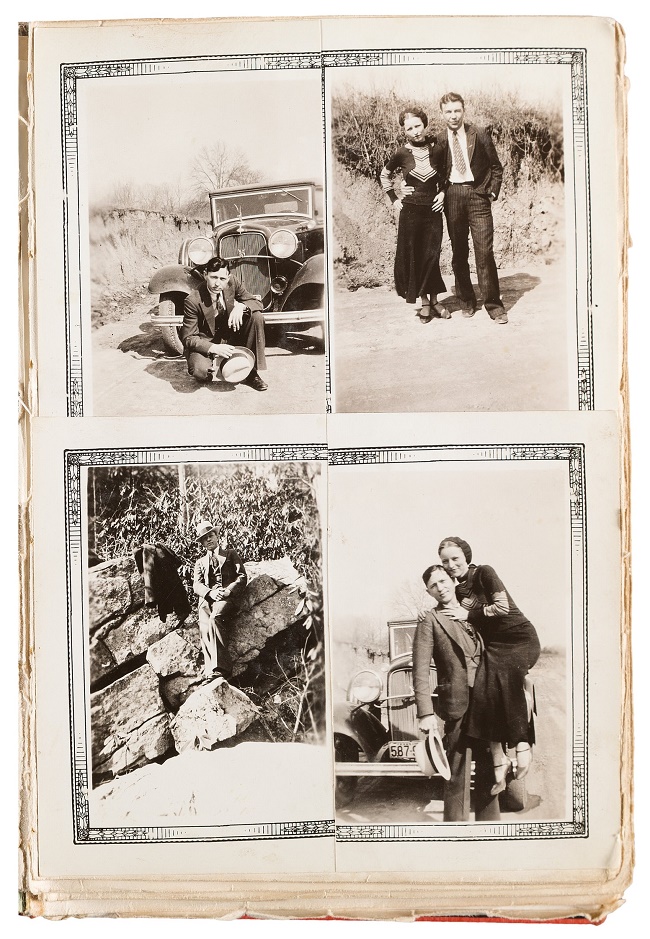 Bonnie Parker and Clyde Barrow are two of the most famous outlaws in U.S history; to some they were common thieves and murderers, and to others they were misunderstood folk heroes.
Their two-year crime spree between 1932 and 1934 captured the imagination of the entire nation, and the pair of young lovers were forever immortalized in May 1934 when they were killed in a hail of bullets during an ambush by Texas police.
"There has been a great deal of interest in Bonnie and Clyde, especially since they were immortalized in the 1967 film that starred Faye Dunaway and Warren Beatty," said Don Ackerman, Historical Consignment Director at Heritage Auctions.
"There's something about the idea of two doomed lovers running from the concerted efforts of law enforcement that really resonates with the public, both moviegoers and collectors alike.
"Bonnie and Clyde didn't pull off any major heists, but their ability to steal, hand-to-mouth and then elude police in high-speed chases – Clyde was a notorious speed demon – created legions of fans."
The poems in the archive offer a personal insight into their lives as fugitives from the law.
First is the most well-known and widely reprinted poem by Parker, ostensibly title 'The Story of Bonnie and Clyde'.
The five-pages of verse had been removed from the book and kept separately in an envelope marked "Bonnie and Clyde – written by Bonnie".
It begins:
"You've read the story of Jesse James/ of how he lived and died / if you're still in need / of something to read / here's the story of Bonnie and Clyde.
"Now Bonnie and Clyde are the Barrow gang / I'm sure you all have read / how they rob and steal / and those who squeal / are usually found dying or dead.
"There's lots of untruths to these write-ups / they're not as ruthless as that / their nature is raw / they hate all the law / the stool pigeons, spotters and rats.
"They call them cold-blooded killers / they say they are heartless and mean / but I say this with pride / that I once knew Clyde / when he was honest and upright and clean."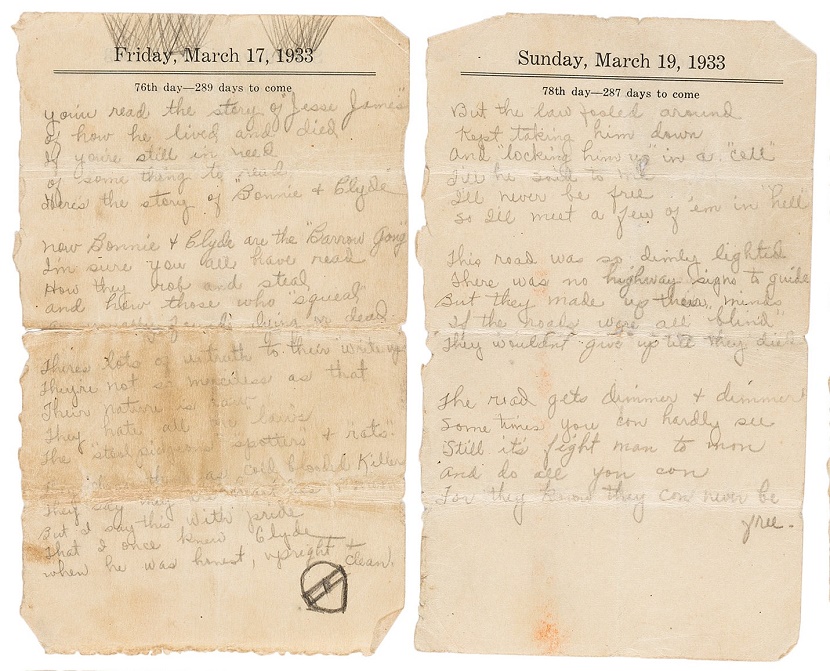 The poem goes on to describe how Barrow had been hounded by the law; how local police wanted to pin unsolved crimes on the gang; and how reporters were eager for more bloodshed, as it helped them sell newspapers.
The poem ends on a fatalistic note, as Parker seems all too aware that the couple are not headed for a happy ending:
"They don't think they're too smart or desperate / they know that the law always wins / they've been shot at before / but they do not ignore / that death is the wages of sin.
Some day they'll go down together / they'll bury them side by side / to few it'll be grief / to the law a relief / but it's death for Bonnie and Clyde."
The poem is believed to be in Parker's own hand, although authentic examples of her handwriting to compare it with are rare. However, the provenance of the archive is particularly strong, having remained in Barrow's family for 85 years.
Following the couple's death, Clyde's sister Nell and Bonnie's mother Emma collaborated on a book entitled 'Fugitives: The Story of Clyde Barrow and Bonnie Parker'.
The poem was featured in the book, using the handwritten copy as the original source, and is directly referenced:
"Bonnie gave me the poem that night, 'The Story of Bonnie and Clyde.' I shall present it here because it gives a little of the inside angle of the case… They would be back in two weeks, they promised, but in two weeks they were dead."
Another version of the poem also appears in the book, written out this time by Barrow, complete with numerous spelling errors. His own poem then follows, in the same hand and with similar errors.
Just as in Parker's poem, Barrow knew that it was only a matter of time before they were caught, and prays for just one more chance to see his family before their time finally came.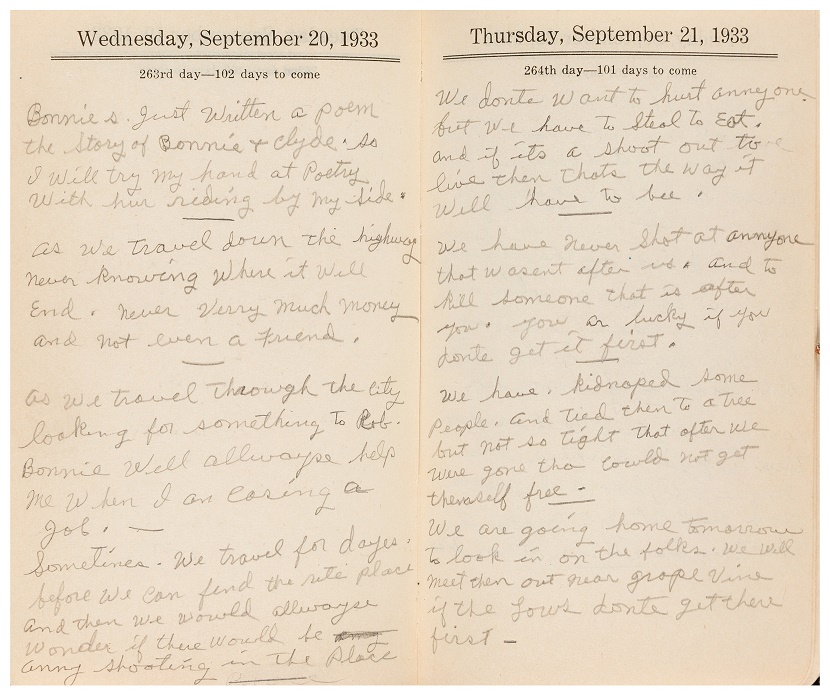 It reads in full:
"Bonnies Just Written a poem / the Story of Bonnie & Clyde. So / I will try my hand at Poetry / With her riding by my side. We donte want to hurt anney one / but we have to Steal to eat. / and if it's a shoot out to / to live that's the way it / will have to bee./
"We have kidnapped some / people. And tied them to a tree / but not so tight that after we / were gone tha could not get / themselves free. / We are going home tomorrow / to look in on the folks. We will / meet then out near Grape Vine / if the Laws donte get there / first./ Now that's not as good as / Bonnies. So I guess I / Will call it a flop- / But please God Just one / moore visit before we are / Put on the spot."
Eighty-five years after their deaths, Bonnie and Clyde's story continues to fascinate collectors, and the strong market for their memorabilia has brought impressive prices at auction.
Notable past sales have included a pair of guns they were carrying at the time of their deaths, which sold in September 2012 for $240,000 and $264,000 respectively; Clyde Barrow's pocket watch, which sold for $36,000; and Bonnie Parker's cosmetics case, which sold for $24,600.