Bob Dylan's harmonica from his first paid gig in New York in 1961 is heading for auction next month.
The stage-used instrument has been described as "possibly the most important harmonica in the history of Dylan's career".
The remarkable piece of music history will be offered at Heritage Auctions on July 21, during the Entertainment and Music Memorabilia Signature Auction in Dallas.
In January 1961, Dylan dropped out of college in Minnesota and moved to New York with a guitar, a harmonica and a dream of making it as a folk musician.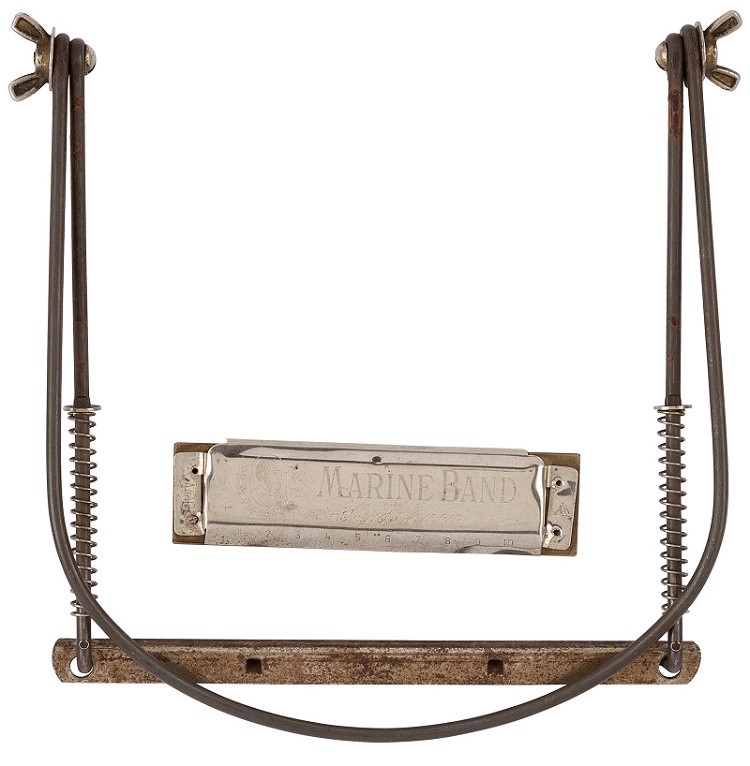 He was initially driven by his desire to visit his idol Woody Guthrie, the famous American folk singer, who was suffering from Huntington's disease in a New York psychiatric hospital.
He quickly began to make a name for himself on the Greenwich Village coffee house circuit, playing at venues including the Gaslight Cafe and the Cafe Wha?
Woody Guthrie's wife Marjorie introduced Dylan to Eve and Mac McKenzie, a couple with a passion for folk music whose apartment was a magnet for aspiring musicians.
The couple generously took Dylan into their home and he became a regular houseguest, sleeping on their living room couch in between sets. A famous Dylan bootleg, entitled The McKenzie Tapes, was recorded on a reel-to-reel tape machine in their living room during this period.
Then in April 1961 Dylan scored his first proper paid gig, as the opening act for blues legend John Lee Hooker at Gerde's Folk City in Greenwich Village.
This two-week run earned him a strong review by Robert Shelton of the New York Times, which in turn brought him to the attention of Columbia Record producer John Hammond Sr, who signed Dylan to his first recording contract.
When Dylan finally moved out into his own apartment, he left the McKenzies his Hofner harmonica and neckstand, along with the handwritten note "These are for you. They're a bit worn, but still good! Bob"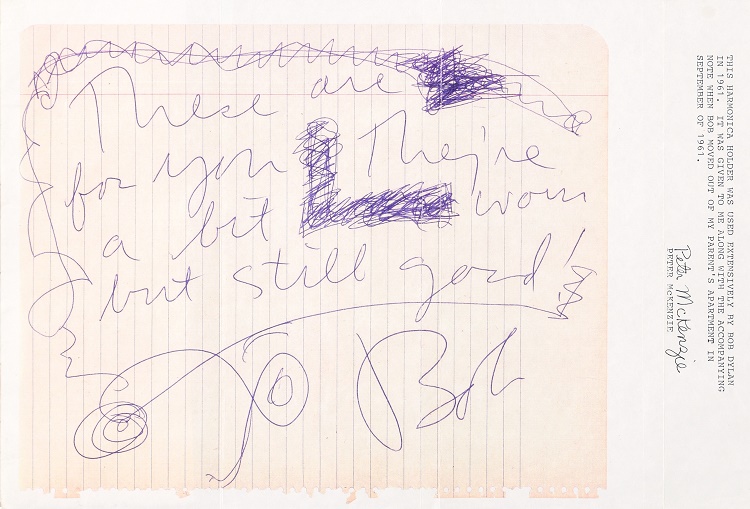 The harmonica and stand later passed to their son Peter McKenzie who, as a teenager, had bonded with Dylan during his stay in the family home. Peter also built a collection of Dylan's early song manuscripts, many of which were later donated to the Pierpoint Morgan Library in New York.
Although Heritage Auctions is yet to place an estimate on Bob Dylan's harmonica, stage-played instruments from throughout his career have consistently sold for six-figure sums in recent years.
In May this year, a guitar used by Dylan and band member Robbie Robertson during his first 'electric' tour in 1966 sold at Julien's Auctions for $490,000.
And in November 2017, the Martin acoustic guitar Dylan played onstage with George Harrison at the famous 1971 Concert For Bangladesh in New York sold for $396,500.
But the world record price for a Bob Dylan instrument is still held by the guitar he played at his landmark 'goes electric' gig at the Newport Folk Festival in 1965.
That screaming Fender Stratocaster, which signalled Dylan's evolution from a folk icon to a rock and roll star, sold at Christie's in 2013 for $965,000.