A set of handwritten lyrics for Bob Dylan's seminal song 'Like A Rolling Stone' will lead an auction of historic memorabilia at University Archives this month.
The online sale, which takes place on January 23, will offer collectors the rare opportunity to own a song which genuinely changed the course of music history.
Dylan himself called 'Like A Rolling Stone' the best song he ever wrote, and in 2004 it topped Rolling Stone Magazine's list of the 500 Greatest Songs of All Time.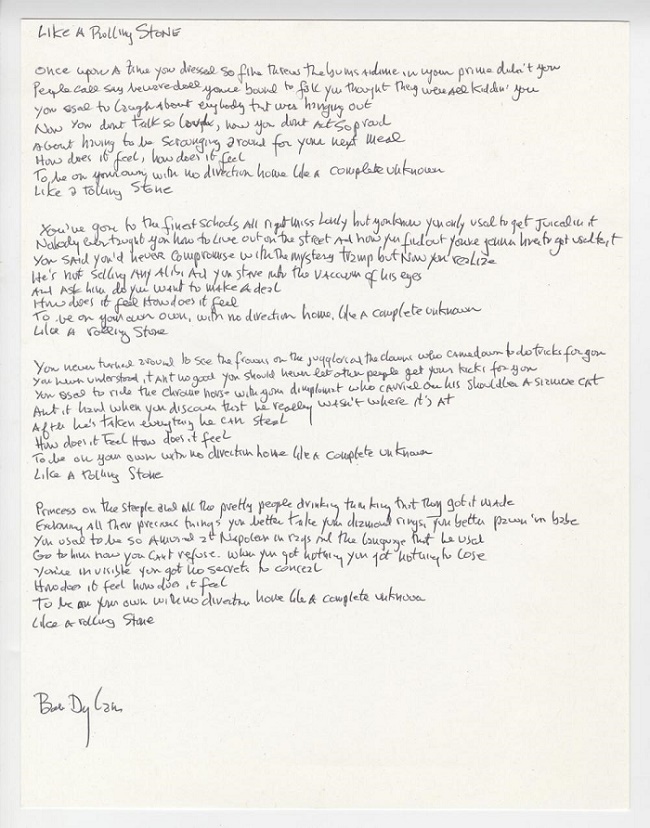 Just two handwritten sets of the song's lyrics have ever appeared at auction.
The first was Dylan's final working draft, featuring the lyrics as he recorded them in June 1965, written on headed stationary from the Rogersmith Hotel in Washington D.C.
In June 2014 that copy, described as "the most significant rock manuscript to be offered at auction", hit the block at Sotheby's where it fetched $2,045,000, setting a new record as the world's most valuable song lyrics ever sold.
The second copy of the song in Dylan's hand is the present manuscript, dating from 2004 and authenticated by Dylan's manager of 30 years Jeff Rosen.
The signed manuscript is expected to sell for $50,000 – $60,000, but could soar far higher, given that the same auction house recently sold a set of Dylan's lyrics for 'The Times They Are A-Changin'' for $137,500.
For both the performer and popular cultural in general, the song marked an important creative breakthrough.
For Dylan it offered an escape from his early career as a folk singer, having become weighed down by the expectations of his fans seeking the same old protest songs.
"I was very drained. I was playing a lot of songs I didn't want to play. I was singing words I didn't really want to sing…" he later recalled. "It's very tiring having other people tell you how much they dig you if you yourself don't dig you."
But with 'Like A Rolling Stone' he reinvented himself as a rock star, complete with a new 'electric' sound that infuriated and delighted his old fans in equal measure.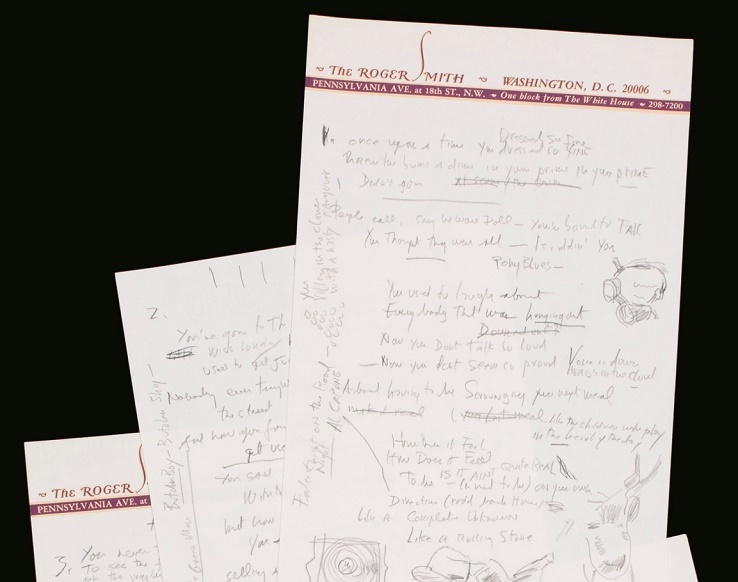 And for a generation of songwriters and musicians, it opened the door to a world of possibilities.
From its abstract, poetic lyrics to Dylan's sneering vocals, and its lengthy six-minute run time, nothing about the song was commercial – and yet it reached #2 in the US Billboard chart, giving Dylan his biggest hit to date.
Suddenly it seemed pop music could be more than just a two-minute love song. As Paul McCartney put it, "he showed all of us that it was possible to go a little further."
And when Dylan was inducted into the Rock and Roll Hall of Fame in 1988, Bruce Springsteen introduced him on stage and spoke of how the song had changed his life.
"The first time I heard Bob Dylan, I was in the car with my mother…and on came that snare shot that sounded like somebody'd kicked open the door to your mind…
"He had the vision and talent to make a pop song so that it contained the whole world. He invented a new way a pop singer could sound, broke through the limitations of what a recording could achieve, and he changed the face of rock'n'roll for ever and ever."