Spink is offering a "B.O.A.C. Beatles Bahamas Special Flight" menu in a July 24-25 Orders, Decorations and Medals sale in London.
The lot was signed by all four members of the band on a plane to the Caribbean, where filming for the movie Help! was taking place, and gifted to the pilot. It's valued at £5,000-6,000 ($6,667-8,000).
Once they'd landed in Nassau, a local reporter asked Lennon: "Well John, how was the trip over, did you all get bored on the flight, or did you have things to keep you entertained, that y'all were doing?"
Lennon replied: "Well, err, we all got stoned."
This was a very different time for air travel. Anyone caught lighting a cigarette (let alone a spliff) on a plane today would almost immediately find themselves tied up in the back seat and hauled off by the authorities on landing.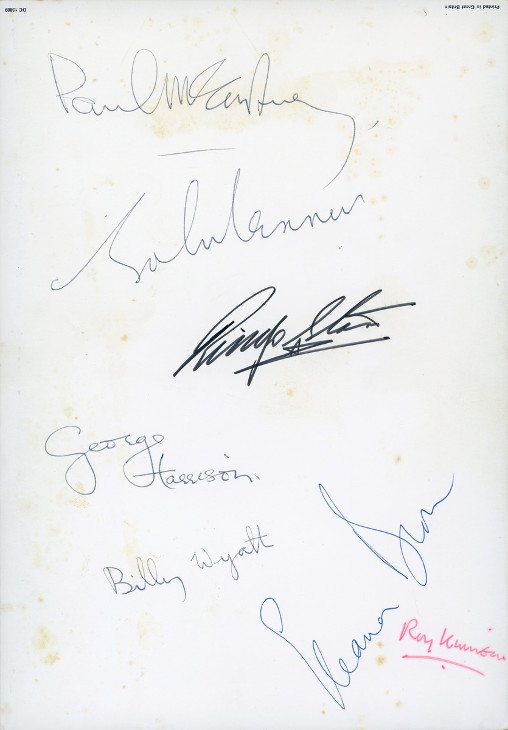 Not so in 1965. While cannabis was still illegal, the band still managed to smoke their way through the flight thanks to a friend named Brandon De Wilde.
George Harrison later explained: "Brandon De Wilde was an actor, a James Dean type. He liked The Beatles' music and he heard we were going to film in the Bahamas, so he came over from the States with a big bag of reefer.
"We smoked on the plane, all the way to the Bahamas. It was a charter flight, with all the film people – the actors and the crew – and we thought, 'No, nobody will notice.'
"We had [roadie and friend of the band Mal Evans] smoking cigars to drown out the smell."
The Beatles were stoned pretty much all the way through filming. One scene, shot in Switzerland, required Ringo and Paul to run away from a bomb. When the director called action they shot off over the hillside and kept running for several miles, stopping for a joint before returning home. The coats they were wearing sold for £115,000 ($153,275) in 2014.
This menu is signed by other members of the cast of Help!, including Roy Kinnear and Eleanor Bron.