A rare letter by Albert Einstein featuring his famous equation "E = mc2" has sold for more than $1 million at auction is the U.S.
The handwritten letter sold at Boston-based RR Auction for $1,243,707, smashing its pre-sale estimate of $400,000.
Einstein wrote the letter to the Polish-American physicist Ludwik Silberstein in October 1946.
Silberstein was a noted critic of Einstein's work, and had publicly denounced his theories in a series of articles in the mid-1930s.
The translated letter read in part:
"Your question can be answered from the E = mc2 formula, without any erudition. If E is the energy of your system consisting of the two masses, E0 the energy of the masses when they approach infinite distance, then the system's mass defect is E0 – E / c2."
The letter had remained in Silberstein's private archive for 75 years, and was consigned to auction by his descendants.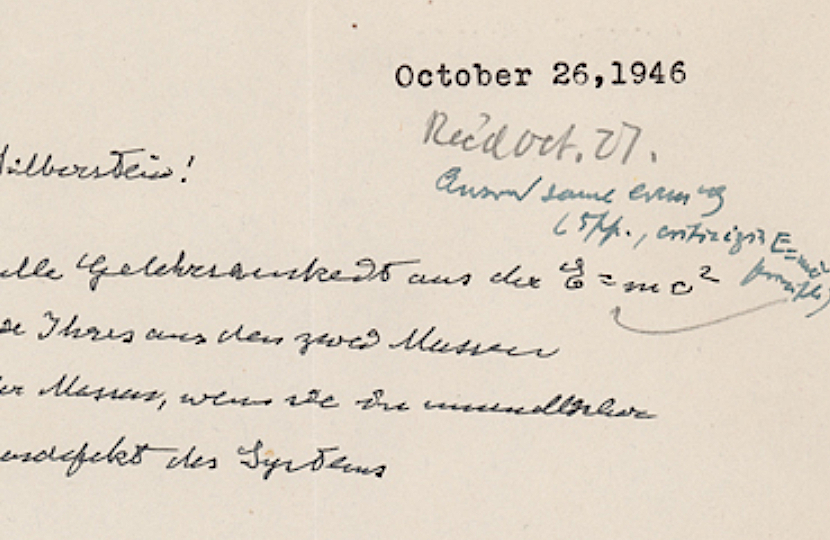 According to research by experts at the Einstein Papers Project at Caltech, and the Hebrew University of Jerusalem, only three other known examples of the equation in Einstein's handwriting are known to exist.
Those three are all owned by public institutions, which made the newly-discovered Silberstein letter the only copy in private hands.
"It's an important letter from both a holographic and a physics point of view," said Bobby Livingston, Executive VP at RR Auction. "Einstein says to use the formula "without any erudition," and he's correct. The world knows E = mc2 as the most famous equation in the world."
Albert Einstein's handwritten letters are highly sought-after by collectors, and have previously achieved huge sums at auction.
They include a letter on his religious beliefs, written just a year before his death in 1955, which sold at Christie's in 2018 for a record $2.89 million.
And in 2017, a two-line note featuring Einstein's own guide to happiness, which he gave as a tip to a hotel porter in 1922, sold for $1.56 million.
The note read simply "A calm and modest life brings more happiness than the pursuit of success combined with constant restlessness."