One of the most notorious forgeries in U.S history, The Oath of a Freeman, is heading for sale at Heritage Auctions.
The famously fake document will be offered in Dallas next month, complete with an incredible backstory of deception, murder and mayhem.
The 'Oath', dated circa 1638, was a pledge of loyalty taken by new members of the Massachusetts Bay Colony.
The small single-page broadside was said to be the oldest English document ever printed in North America.
No original copies were known to survive, until one was discovered between the pages of a rare volume in a New York bookshop in 1985.
Countless experts examined the document and proclaimed it genuine. It was valued at $1.5 million, and even attracted interest from the Library of Congress.
But it was actually the work of Mark Hoffman – a master forger-turned murderer, and the subject of the recent Netflix true crime series Murder Amongst the Mormons.
Although The Oath of a Freeman is a fake, it's a historic fake with an incredible story attached. And it's expected to sell for upwards of $10,000 when it hits the block on June 10.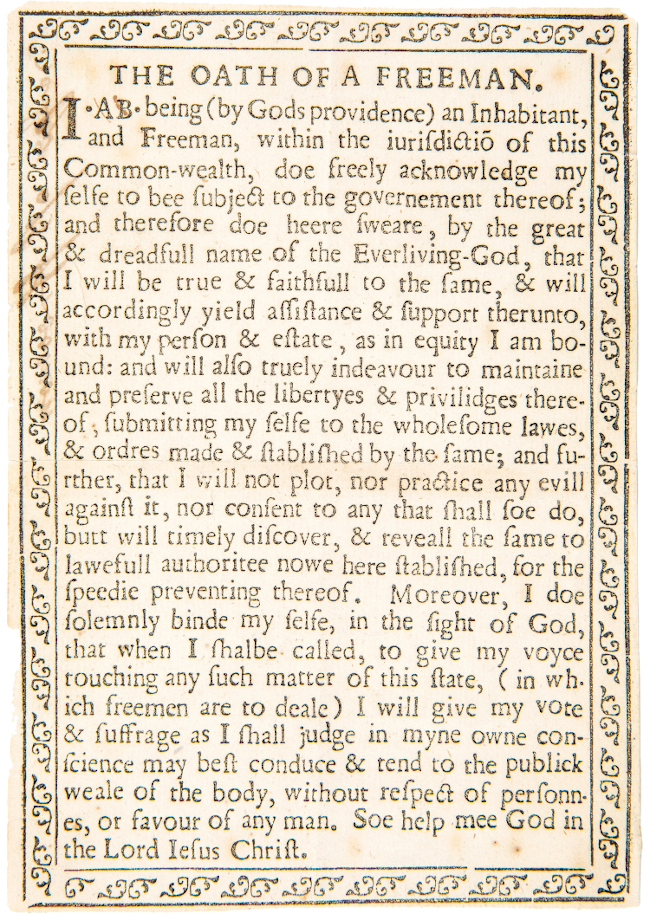 According to the documentary's co-director Tyler Measom, the document "is Hofmann's Mona Lisa. It's a remarkable forgery and, in and of itself, a piece of artwork."
Hoffman made his name in the early 1980s as an expert in historic Mormon documents, and sold many items to the Mormon Church.
But he had in fact forged the documents, using remarkable techniques that fooled historians and forensic scientists alike.
Eventually Hoffman's elaborate schemes began to tumble down, and he found himself in serious debt and on the verge of discovery.
He created The Oath of a Freeman using 17th century paper stolen from a university library, a 400-year old recipe for ink and a new printing plate.
But when the document failed to find a buyer, he became desperate – and in October 1985 he murdered two people, and terrorized Salt Lake City in Utah, with a bombing campaign to get rid of those who could expose him.
He was later described by The Salt Lake City Tribune as "an evil genius and a fraud who deceived his church, his friends and even his wife."
Hoffman has spent the past 34 years in prison for his crimes, and to date nobody knows how many of his expertly-forged documents remain in circulation.
According to Heritage, "the Oath is undoubtedly one of the most remarkable known forgeries ever perpetrated, and a compelling recreation of a significant document in American history.