A rare letter written by the celebrated Gothic author Edgar Allan Poe has sold for more than $120,000 at auction in the U.S.
The "immensely desirable" letter was written to the playwright and editor Robert Taylor Conrad in 1847, two years before Poe's mysterious death in October 1849.
The handwritten letter soared past its starting bid of $10,000 to sell for $125,125 at RR Auction in Boston on October 7.
Conrad, who later became Mayor of Philadelphia, was the editor at Graham's Magazine – a literary publication where Poe himself had worked just five years earlier.
Poe originally joined Graham's Magazine in February 1841, having already earned himself a reputation as an author and fierce literary critic.
In March 1841 the magazine published Poe's tale Murders in the Rue Morgue, which today is widely viewed as the first modern detective story.
Poe's tenure at Graham's Magazine was the only period of financial stability in his life, during which he bought himself an 18k gold pocket watch.
In June 2019 that pocketwatch sold at Christie's for $250,000, more than doubling its high estimate and setting an auction record for an item of Edgar Allan Poe memorabilia.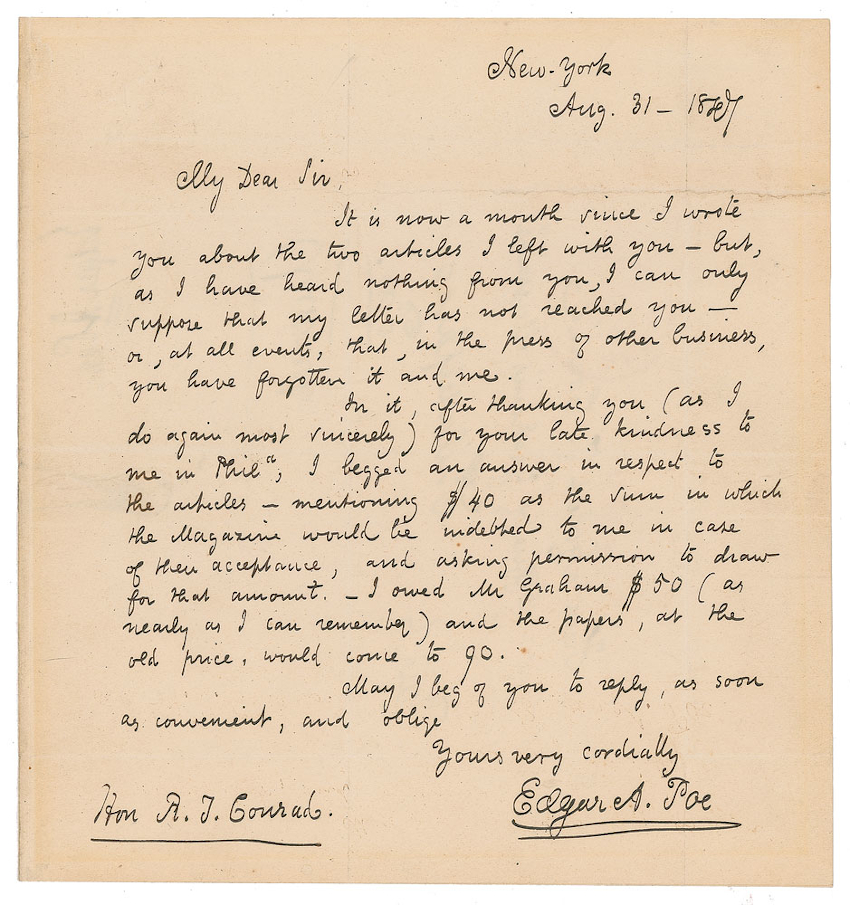 Although Poe left his position with the magazine in April 1842, he continued to submit poems and articles for several years.
In January 1845 Graham famously turned down the chance to publish Poe's poem The Raven, although during their meeting he reportedly gave Poe $15 as an act of charity.
Soon after, The Raven was published in New York Evening Mirror and Poe became nationally acclaimed, although he saw little financial benefit from his new-found fame.
He continued to struggle financially, and following the tragic death of his wife Virginia from tuberculosis in January 1847 he became increasingly unstable.
Several months later in August 1847 he wrote his final letter to Graham's Magazine in search of paid work.
His letter was addressed to the editor Robert Taylor Conrad, to whom he had submitted two articles a few weeks' earlier during a visit to Philadelphia. It begins:
"It is now a month since I wrote you about the two articles I left with you—but, as I have heard nothing from you, I can only suppose that my letter has not reached you—or, at all events, that, in the press of other business, you have forgotten it and me."
Poe went on to ask for the sum of $90 for the publication of the articles, although he suggested $50 of that would cover his previous debts to Graham himself.
Poe's dire financial straits are implicit as he ends his letter "May I beg of you to reply, as soon as convenient."
The payments were not forthcoming, and the letter marked the last time he contacted his former employer.
Two years later in October 1849 Poe was found wandering the street of Baltimore in a delirious and dishevelled state, wearing clothes that were not his own.
He died on October 7, having called out the name "Reynolds!" several times the previous night, although his cause of death remains unknown to this day.