An incredibly rare 1854-S Liberty Head Half Eagle coin is heading for sale at Heritage Auctions next month, following a remarkable discovery in New England.
The $5 gold coin is expected to sell for millions when it hits the block on August 16, as part of the Platinum Night Auction during the American Numismatic Association's World's Fair of Money in Philadelphia.
"This discovery rewrites numismatic history," said Jim Halperin, co-founder of Heritage Auctions. "We are delighted to have been selected to auction this major find."
The 1854-S Liberty Head Half Eagle is one of the lowest-minted coins in US history, with records showing that just 268 examples were struck at the San Francisco Mint during the Gold Rush.
Until recently just three other examples of the coin were known to exist, and one of those has been missing for decades.
"It's like finding an original Picasso at a garage sale," said Mark Salzberg, chairman of coin authenticator the Numismatic Guaranty Corporation (NGC). "It's the discovery of a lifetime."
The first known example is part of the Smithsonian Museum's National Numismatic Collection, where it has resided since 1970, and the second is owned by a renowned private collector in Texas.
The third known example of the 1854-S Liberty Head Half Eagle was originally owned by Willis H du Pont, chemical magnate and heir to the DuPont family fortune.
But in October 1967 thieves broke into his Miami mansion, tied up Willis and his wife at gunpoint, and stole more than 7,000 rare coins from his collection, along with $50,000 in cash and jewelry.
A handful of the coins from du Pont's collection have since surfaced, and the investigation into their disappearance is still active, but the 1854-S Liberty Head Half Eagle remains missing more than 50 years on.
So when the consignor first revealed the coin, experts were naturally suspicious of the discovery.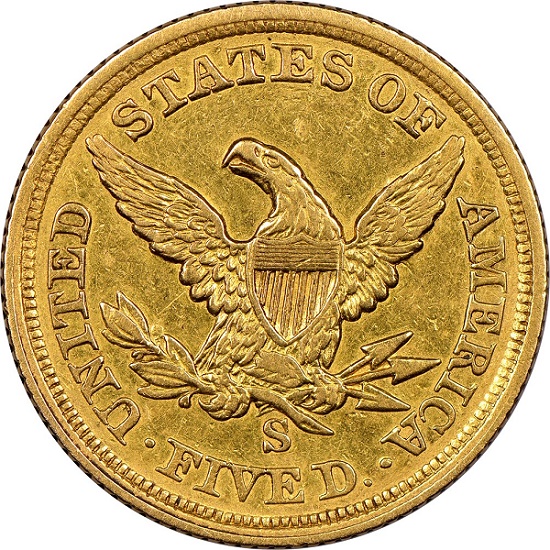 "The owner of the coin is a life-long New England resident who wants to remain anonymous," said Salzberg.
"He had shown it to a few collectors and dealers at a recent coin show, but everybody said they thought it was a fake because until now there were only three genuine surviving 1854-S $5 gold pieces known.
Determined to find an answer, he submitted it to the NGC for authentication.
"Our initial reaction on examining the coin from New England was utter disbelief that a rarity of this magnitude could still be discovered in this era. But upon seeing the coin in person for the first time it was apparent that the coin is genuine," said NGC president, Rick Montgomery.
Following painstaking research to ensure the coin was not the previously stolen du Pont example, NGC declared it to be the genuine article.
"[The owner] was stunned when we informed him that it is a genuine, multi-million dollar rare coin," said Salzberg.
The 1854-S Liberty Head Half Eagle will be in good company when it goes under the hammer in Philadelphia. The hotly anticipated Heritage sale will also include the equally valuable – and even rarer – Washington President gold eagle coin, believed to have been carried by President George Washington himself back in 1792.