A pair of 125-year-old antique Levi jeans has sold for $100,000 in the US, after being discovered hidden in a trunk by the original owner's great-great grandson.
Dating from 1893, the remarkably preserved denim jeans are the only known pair of virtually unworn 19th century Levis in existence.
They were sold privately by Daniel Buck Auctions in Maine to an anonymous buyer in south-east Asia, who reportedly paid in the region of $100,000 to add the jeans to their collection of vintage Levis.
Although the exact amount remains undisclosed, the price is believed to be close to the world record price for a pair of antique Levi jeans.
According to the auction house, a pair of Levis made in 1888 previously sold for an undisclosed six-figure sum, and in 2005 a Japanese collector paid $60,000 on eBay for a pair made in the 1880s.
The jeans had previously been offered for sale by the auction house in November 2016, but had failed to find a buyer.
The Levi Strauss company had then offered $50,000 to buy the jeans for its but the owners declined – a decision that now seems exceptionally wise.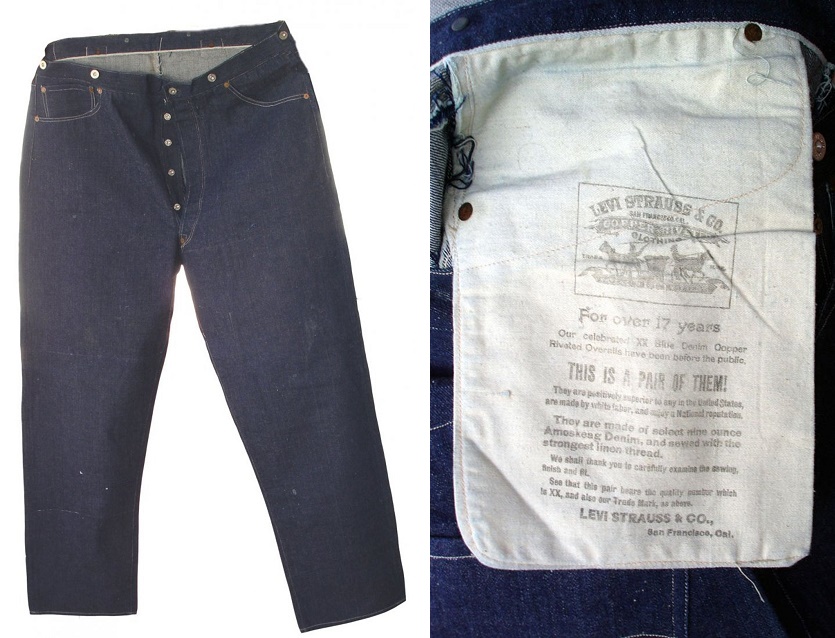 The original owner of the 'Levi Strauss & Co. XX Blue Denim Copper Riveted Waist Overalls' was Solomon Warner (1811-1899), an American businessman and pioneer who helped establish the Arizona Territory.
Warner opened a successful dry goods store on Maine Street in Tucson, Arizona in 1856, but when the US civil war broke out in 1861 he refused to take an oath of loyalty to the Confederacy and his property was seized.
He was forced to flee to New Mexico, where he met his future wife and remained until after the war. Upon his return he built and operated a flouring mill in Tucson, which played a vital role in the local economy, and spent his final years attempting to invent a perpetual motion machine.
Warner ordered the size 44-waist jeans at the age of 83 and wore them just a handful of times. They were carefully kept in a trunk which was passed down through generations of his family for the next 125 years.
The jeans were made at the Amoskeag Mill in Manchester, New Hampshire, and featured a single back pocket, button fly, and suspender buttons rather than belt loops.
A label on the inside of the jeans features the instantly recognisable Levi Straus & Co logo, along with the motto "For over 17 years".