A bottle of the world's most expensive Scotch whisky valued at $1 million is heading to auction at Bonhams in October.
The rare bottle of Macallan Valerio Adami 1926 60 year-old whisky will hit the auction block in Edinburgh on October 3, with a pre-sale estimate of £700,000 – £900,000 ($780,000 – $1 million).
The whisky was originally produced in 1926 and aged in a barrel at the Scottish distillery for 60 years, before being bottled in 1986.
Macallan produced 24 bottles in total, with 12 featuring labels by the Italian artist Valerio Adami and 12 by British artist Peter Blake.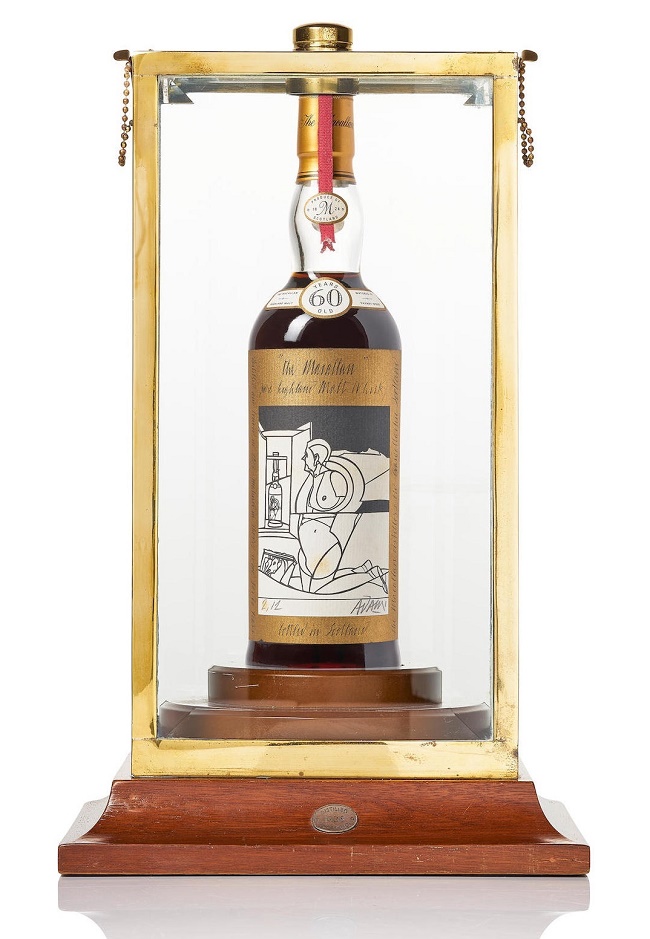 "The Macallan 1926 60 year old has been described as the Holy Grail of whisky," says Bonhams Whisky specialist Martin Green.
"Its exceptional rarity and quality puts it in a league of its own, and the world's most serious whisky collectors will wait patiently for many years for a bottle to come onto the market. It is a great honour to be offering this amazingly rare whisky at our Edinburgh sale."
Thankfully for those serious collectors, they haven't had too long to wait – as two of the bottles were previously offered at Bonhams in Hong Kong back in May 2018.
It was there that a bottle of the Macallan Peter Blake 1926 60-Year-Old set a new auction record, becoming the first whisky to break the $1 million mark with a price of $1,014,382.
However, that record lasted less than three hours, before a bottle of the Macallan Valerio Adami 1926 60-Year-Old soared to a final price of $1,100,249.
The bottle heading for sale in October was originally acquired by the consignor directly from the Macallan distillery in 1994, and has remained in their collection ever since.
Although 12 bottles of the Macallan Valerio Adami were created, nobody is quite sure how many remain in existence.
It's believed that one of those bottles was destroyed during an earthquake in Japan in 2011, and at least one other was opened and drunk – at a stunning cost of approximately $60,000 a shot.
With perhaps less than 10 bottles left, it would be no surprise if this one sets a new world record in Edinburgh this fall.