A 12,000-year-old Woolly Mammoth skeleton is one of the star lots in a sale of historic curiosities at Sotheby's next month.
The Curiosity V sale, which takes place in Hong Kong on April 2, will offer more than 120 artifacts spanning millions of years of natural and human history.
Notable lots include everything from ancient Chinese porcelain and Roman statues, to medieval religious icons and 30 million-year-old sculptural fossils.
But perhaps the sale's most striking lot is the monumental skeleton of a Woolly Mammoth, which stands an impressive 3.5m tall and features an impressive set of fearsome tusks.
Remarkably preserved, the museum-quality skeleton comes with a pre-sale estimate of $320,000 – $445,000.
The Woolly Mammoth (Mammuthus primigenius) lived on Earth from 3,000,000 BCE to around 10,000 BCE.
The enormous animals coexisted with early humans; first alongside Neanderthal man, during the Middle Paleolithic period, and then with Homo sapiens during the Upper Paleolithic Period.
During these periods humans relied heavily on the Woolly Mammoth for survival, hunting them for food and using their bones and tusks to create tools and shelters.
Experts believe they finally became extinct around 12,000 years ago, due to a combination of human hunting and climate change, which drastically shrank their natural habitat.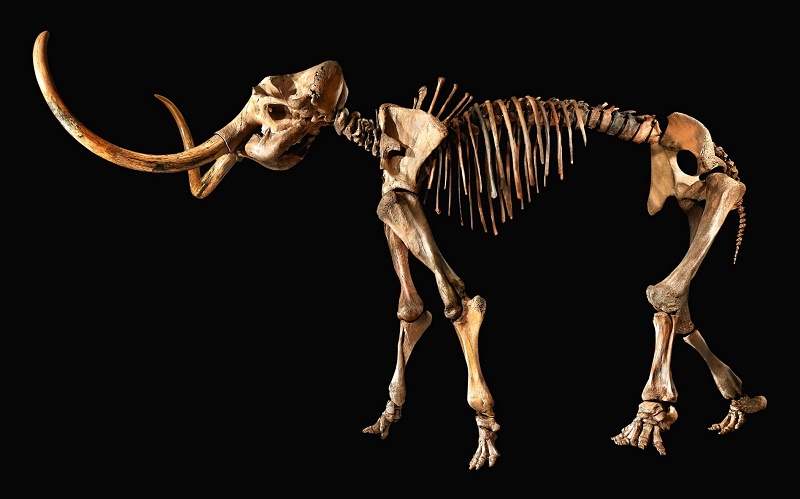 Today they are one of the most studied of all prehistoric animals, thanks to the discovery of perfectly preserved frozen carcasses which retain everything from skin and hair to stomach contents.
The 12,000-year-old specimen offered at Sotheby's was originally discovered in Siberia, and dates from the Late Pleistocene epoch.
The skeleton is a rare complete example from an individual specimen, unlike many found in museums, which are often composed of bones from multiple specimens.
In recent years the market for prehistoric fossils and skeletons has boomed, with specimens being sold at auction to private collectors for six or seven-figure sums.
Back in December 2017 another complete Woolly Mammoth skeleton from Siberia achieved a world record price, when it sold at the Aguttes auction house in Lyon for €548,250 ($645,000).