A highly rare poster advertising the return journey of the Titanic is heading for auction in the U.K next week.
The poster describes the ill-fated ship as "The Queen of the Ocean", and would have originally been displayed in New York to advertise Third Class fares back across the Atlantic.
The poignant poster is expected to sell for £60,000 – £80,000 ($79,000 – $105,500) when it crosses the block at Henry Aldridge & Son in Devizes on October 20.
The Titanic launched on its maiden voyage from Southampton on April 10, and was set to arrive at New York Pier 59 on the morning of April 17.
It was then due to embark off on the return leg of the journey on April 20, calling at Plymouth and Cherbourg on the way back to Southampton.
However in the early hours of April 15, four days into its maiden voyage, the ship struck an iceberg in the Atlantic and sank, killing more than 1,500 people.
As news of the disaster spread around the world, the White Star Line ordered all the posters to be torn down and destroyed in an effort to minimise the bad publicity.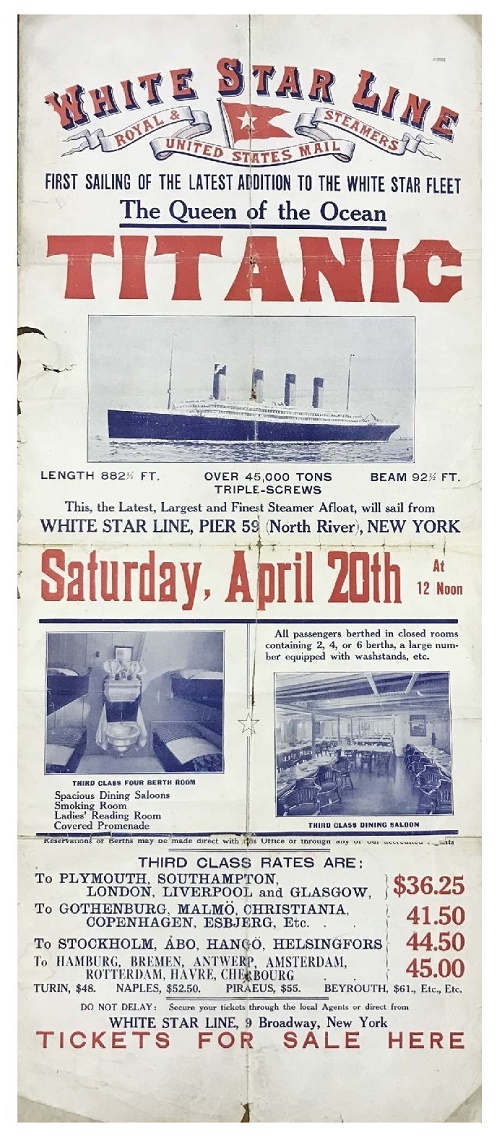 It's believed that only a handful have survived to this day, with almost all of them in museums or part of private collections.
Most recently, an example was displayed as part of the 'Speed and Style' vintage travel exhibition at the V&A Museum in London.
The poster actually features an image of the Titanic's sister ship the Olympic, which looked virtually identical and was often used in promotional material for the White Star Line.
It also features interior photographs of a Third Class cabin and the Third Class dining room, and advertises fares to a variety of destinations in Europe with prices starting at $36.25.
The appearance of a surviving poster on the open market is a rare occurrence, and is sure to excite collectors of Titanic memorabilia.
Back in November 2011, another copy was offered for sale at Swann Auction Galleries in New York, where it soared past its estimate of $15,000 – $20,000 to fetch $72,000.
That price was an auction record for a copy of the poster – although it now looks set to tumble in next week's sale.
Original posters depicting the Titanic in any format or design are a scare commodity, and usually fetch high sums when they appear for sale.
In 2010, Henry Aldridge & Son sold an equally rare poster depicting the Titanic and the Olympic passing each other at sea for another record price of £69,000 ($91,000).