A unique collection of Supreme skateboards valued at more than $1 million is heading for auction at Sotheby's later this month.
The collection includes an example of every skateboard created by the New York brand, featuring designs by artists including Damien Hurst, KAWS, Jeff Koons, Peter Saville, Rammellzee and Christopher Wool.
The archive of 248 decks will now be offered as a single lot during an online Sotheby's auction on January 25, with an estimate of $800,000 – $1.2 million.
"This unique collection is the only one of its kind in existence including every deck that Supreme has ever released, dating all the way back to 1998," said collector Ryan Fuller.
"Older releases become increasingly difficult to find as years go by, and it is therefore likely this will remain the only complete collection in private hands."
Fuller has spent the past 11 years tracking down the decks, many of which were produced in hugely limited numbers and some that were never even officially released.
The Supreme brand began life in 1994 as a single skate store in downtown Manhattan, founded by the British-born designer James Jebbia.
The store became a popular hang-out for local skaters, and also produced its own skate wear and decks, which quickly became highly sought-after due to their unique designs and limited numbers.
Since then the company has grown into a billion-dollar empire with 11 stores around the globe, and is regarded as one of the world's most influential streetwear brands.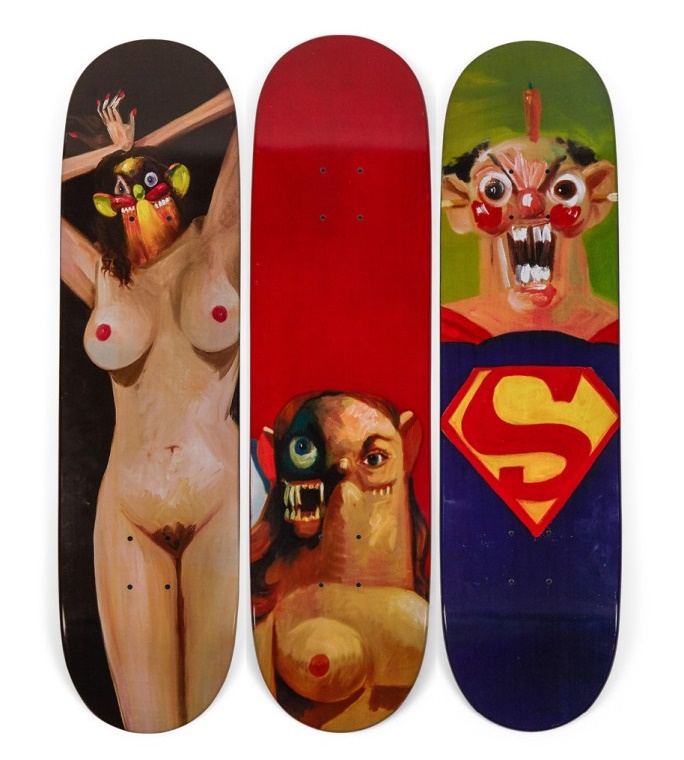 Supreme has also become renowned for its exclusive collaborations with contemporary artists, photographers and musicians, creating decks which transcend the skate scene and have become works of art in their own right.
In addition to collaborations with artists, Supreme has produced boards by film-makers such as Larry Clark and Harmony Korine, and rap group Public Enemy amongst others.
The collection also includes a set of five boards depicting Leonardo da Vinci's 'The Last Supper', including a sixth board with an image of Christ that was exclusively released in Japan.
The growing influence of the Supreme brand and skatewear on popular culture can be seen in two of the rarest decks in the collection.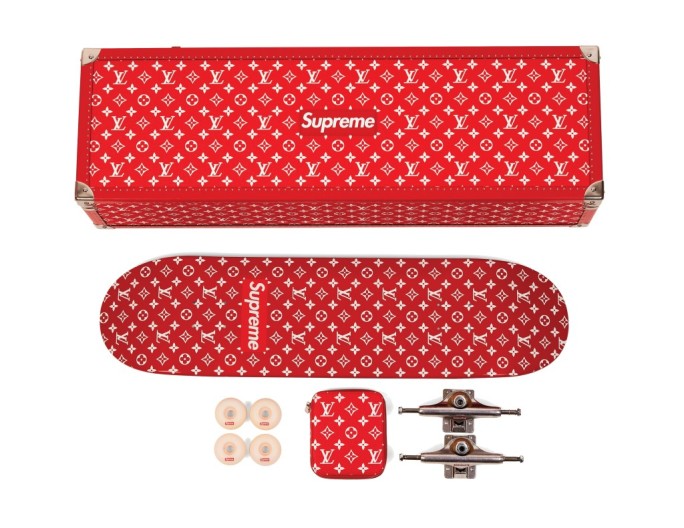 In 2000 the brand produced an unofficial design based on the monogram print of French luxury retailer Louis Vuitton, which was quickly recalled due to copyright issues.
Seventeen years later they created another monogram design – this time as an official collaboration with full blessing of Louis Vuitton – and a range of clothing which featured on the Paris catwalk as part of the French company's Fall-Winter 2017 Menswear show.
"The intermingling narratives of skate culture, art, New York City and the evolution of Supreme's brand is amazing to behold," Noah Wunsch, Sotheby's Vice President of Global Digital & Marketing Strategy. "We are thrilled to bring Ryan's singular collection to auction for the first time."