The personal memorabilia collection of Three Stooges legend Moe Howard will be offered at auction by Nate D. Sanders later this month.
More than 1,100 lots will cross the block during the special five-day sale, with Howard's extensive collection spanning his entire life and career as a performer.
The collection is a goldmine for fans of the Three Stooges, and includes everything from rare posters and photographs to handwritten comedy sketches, scripts, home movies and personal items.
The huge collection has remained intact since Moe Howard passed away back in 1974, and will now be offered to collectors for the first time.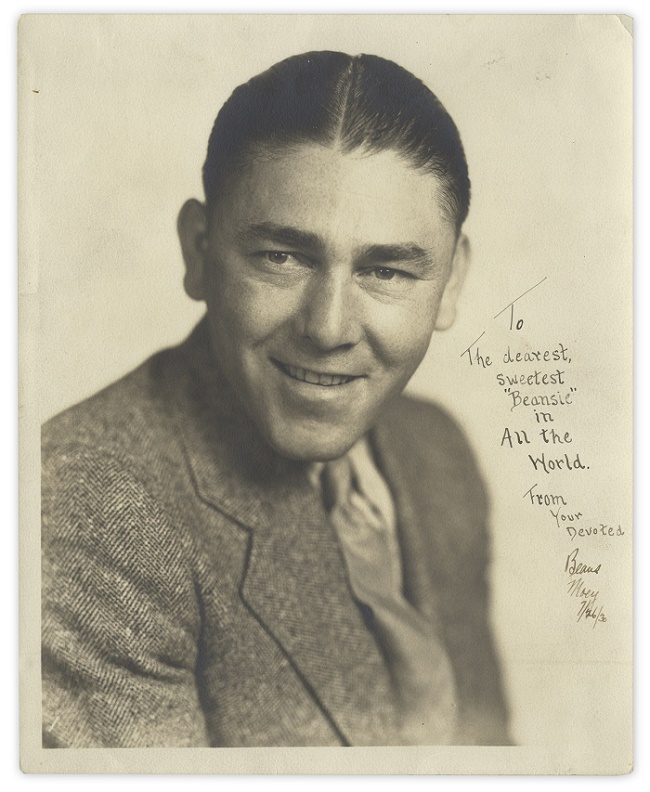 The Three Stooges are regarded as one of the most iconic comedy teams in cinema history, and remain hugely popular more than 80 years after they made their big-screen debut.
Throughout a career that lasted almost 50 years, the trio – in all its various incarnations – starred in 220 films, appeared in numerous TV shows, and spawned a huge line of Three Stooges merchandise.
The collection offers approximately 300 scripts, ranging from Nertsery Rhymes (MGM, 1933), featuring an early appearance of Howard as a member of Ted Healy and his Stooges, all the way through to scripts from the 1960s animated TV show The New Three Stooges.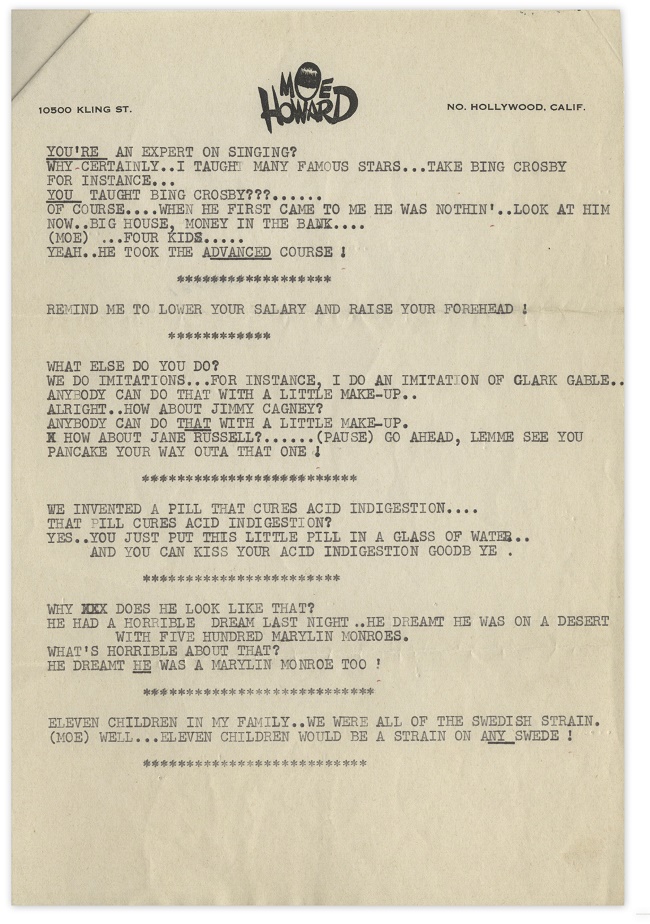 It also includes an archive of around 100 scripts for comedy sketches and skits from their live performances, with dozens of pages of Howard's handwritten jokes.
Perhaps most prominent amongst the scripts is Howard's original two-page handwritten draft for the fourth Stooges short Three Little Pigskins (Columbia, 1934), which comes with an estimate of $7,800+.
The most valuable item on offer is an original one-sheet poster for the Three Stooges short Uncivil Warriors (Columbia, 1935), in which the trio play Union soldiers during the U.S Civil War, estimated at $30,000+.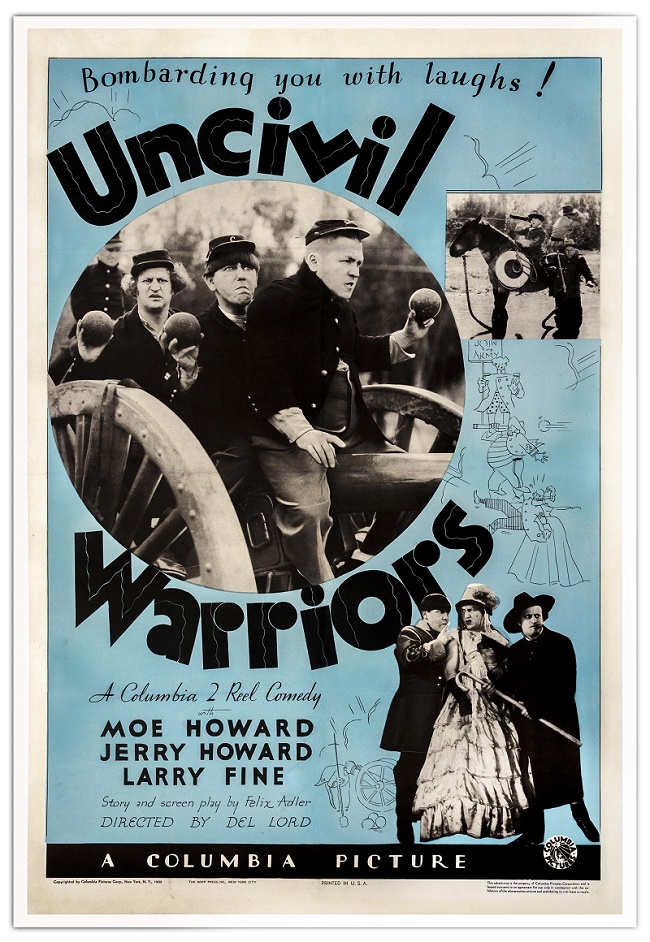 Further rare posters include an original lobby card for the wrestling short Grips, Grunts and Groans (Columbia, 1937), and several posters promoting the Stooges' appearance at the Blackpool Palace during their first visit to Britain in June 1939.
Another standout lot is Howard's passport used during that first British tour, featuring the uncommon signature "Moses Hurovitz" which differs from his stated real name as Moses Horwitz.
The collection features a wealth of personal items from Howard's family life and the earliest days of his stage career.
They include photographs of Moe and Shemp on stage together as the double act 'Howard & Howard', circa 1919; poems he wrote to his wife Helen and his daughter Joan; home movies from family holidays and Curly's wedding; photos and paintings that hung in his office; and even a copy of his 1974 death certificate.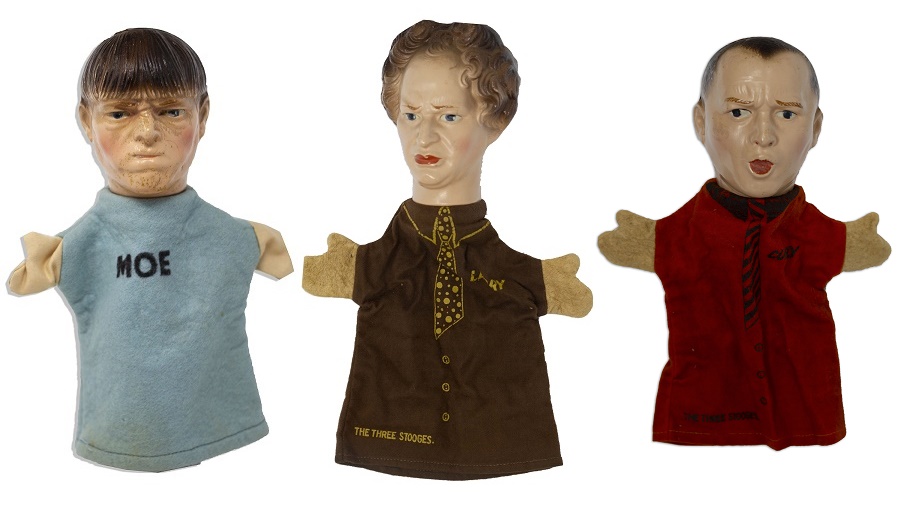 Further notable lots include a rare Columbia Studio contract dating from 1946, signed by Moe, Larry, Curly and Shemp; Howard's script for the 1946 short Hold That Lion (the only film to feature four Stooges); a draft copy of Howard's autobiography in the form of his handwritten and types pages with annotations; and a complete set of Three Stooges handpuppets circa 1937, the first officially licensed Stooges toys ever produced.
Elsewhere fans will find awards, personal scrapbooks, letters, promotional stills, signed photos, studio contracts and documents, all previously owned and treasured by Howard throughout his life.
The Personal Collection of Moe Howard sale runs online at Nate D. Sanders from June 24 until June 28, with each daily session ending at 5.00pm PDT.