A dress worn by Marilyn Monroe as she tearfully announced her divorce from Joe DiMaggio in 1954 is heading for the auction block next month.
The simple black zip-up dress will be offered for sale by Kruse GWS Auctions on March 30, and is expected to fetch up to $150,000.
"The dress signifies the end of one of the most celebrated and tempestuous marriages in Hollywood history, a union of mega-watt superstars," said the auction house in a statement. "[It's] an under-recognized treasure that marks the troubled, enigmatic life of this iconic actress."
Monroe wore the dress on October 6, 1954 during a press conference outside her home in Beverly Hills, where she was accompanied by her attorney Jerry Giesler.
The conference took place in front of dozens of reporters and camera crews, and marked perhaps the most emotionally raw public appearance of Monroe's life.
Visibly distressed and barely able to stand or speak, Monroe was in tears as Giesler told reporters that the couple were separating due to their "conflicting careers".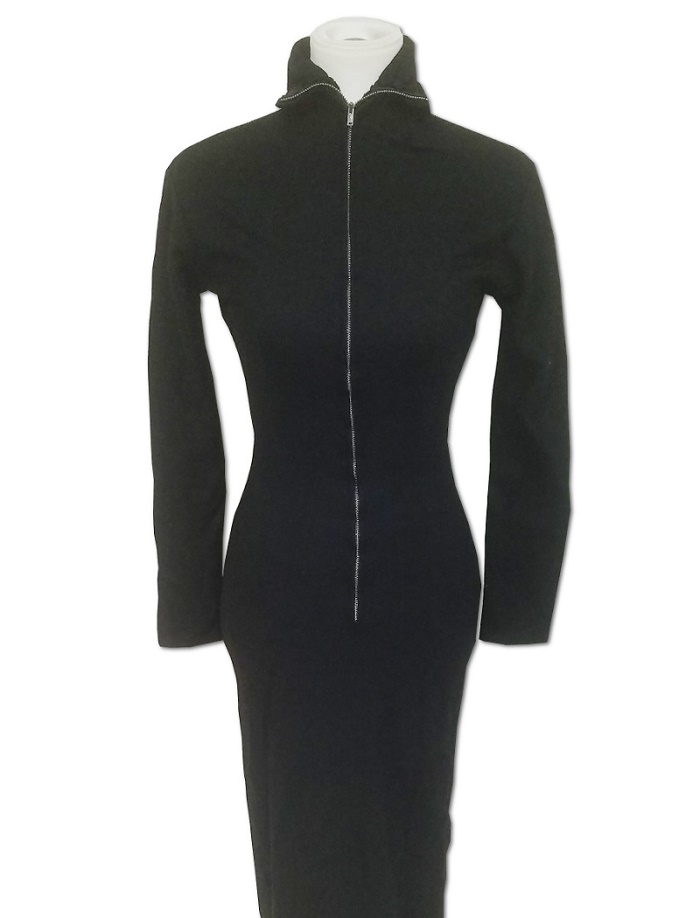 Life Magazine later reported: "Even for Hollywood, where unhappy endings for the real love stories come with almost unseemly haste, this ending seemed abrupt. It was only last January that the press was mobbing the San Francisco city hall, waiting for Joe DiMaggio and Marilyn Monroe to emerge as newlywed man and wife.
"Nobody had been surprised when they got married… Nobody doubted their love… And almost nobody professed surprised when they broke up — the conflict in their two careers seemed inevitable."
In reality the conflict was as much emotional and professional. DiMaggio was unable to handle the attention his wife received, often flying into a jealous rage.
He wanted Monroe to play the role of a traditional wife, but was faced with the reality that he had married the most famous woman in the world, whose own star far outshone his.
Although the resentment had been simmering beneath the surface since their wedding, it came to a head in September 1954, as Monroe filmed her famous 'white dress' scene for The Seven Year Itch.
As a huge crowd watched his wife's dress blow up around her waist, DiMaggio reportedly screamed "What the hell's going on here?" and stormed off set.
It proved the final straw for both of them, and a month later they were divorced, with Monroe citing DiMaggio's "mental cruelty", and telling the judge he was "cold" and "indifferent".
The dress is sure to attract attention from collectors around the world, for whom Marilyn Monroe memorabilia remains the ultimate prize.
Outfits worn on-screen and in her personal life have sold for six and even seven-figure sums in recent years, and those with photographic provenance command a high premium.
Sixty-five years on, the relationship between Marilyn Monroe and Joe DiMaggio remains one of the most iconic romances of the 20th century, and pieces relating to it can perform particularly strongly at auction.
Notable sales have included the platinum and diamond wedding ring DiMaggio gave Monroe, which sold at Christie's in 1999 for $772,500; a love letter DiMaggio sent Monroe just after she announced their separation, which sold at Julien's in 2014 for $78,125; and a baseball signed by the couple in 1961, as they began a tentative reconciliation, which sold at Heritage in 2006 for $191,200.