A remarkable archive of unpublished letters by the acclaimed writer Hunter S. Thompson is heading for sale at Nate D. Sanders later this month.
The collection includes more than 180 personal letters written by Thompson to his childhood friend Paul Semonin between 1955 and 1974.
The letters will be offered as a single lot in Nate D. Sanders' upcoming auction on September 27, with bids starting at $110,000.
Hunter S. Thompson (1937 – 2005) is renowned as the father of 'Gonzo' journalism, and the author of classics including 'Fear and Loathing in Las Vegas' and 'Hell's Angels: The Strange and Terrible Saga of the Outlaw Motorcycle Gangs'.
These letters, packed with Thompson's savage wit and personal philosophies, offer an incredible insight into his formative years, as he made the journey from an angry teenager to one of America's most significant social and political commentators.
The correspondence begins in 1955 during Thompson's final year at high school in Kentucky. Whilst Semonin was away studying at Yale, Thompson was having problems with the law and spent 31 days in jail, missing his own graduation. He wrote:
"…the knowledge that I can think of you as my friend means more to me than you might suspect… …you've always seemed to have a Midas touch so far as accomplishment was concerned, while I was the 'black sheep'".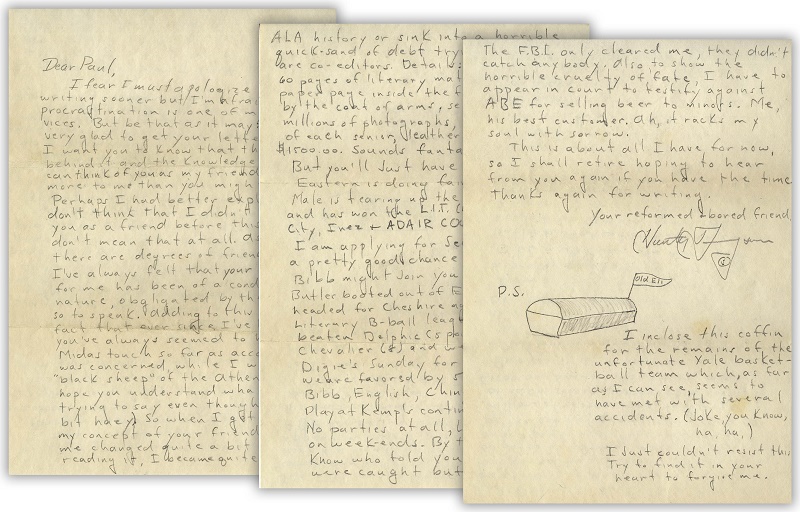 Thompson then spent a year serving in the United States Air Force, before relocated to New York where he worked as a copy boy for Time Magazine.
He was later fired for insubordination, and moved to Puerto Rico where he worked as a stringer for several U.S national newspapers. In December 1960, having returned to the U.S, he began working on his novel The Rum Diary, based on his experiences in Puerto Rico.
His progress with the book is marked in several letters over the next couple of years:
"The Lord knows where I'm going and the Devil knows who I'll marry, but everything else is up for grabs…Big money looms. Great Puerto Rican novel now underway."
"…am working fitfully on Great PR novel – The Rum Diary. Also …stalking boar & generally raising hell…"
"The Rum Diary is mush-rooming into a beastly thing, full of hell and humping and slander…"
"The RD is almost there. I can hardly belive [sic] it, but feel certain it will never be published. No matter. Just to finish the bastard is enough…"
He was almost right, as the book was originally turned down by seven different publishers and lay dormant for almost 40 years.
But in 1998 the manuscript was finally published, after being rediscovered in Thompson's Owl Farm basement by the actor Johnny Depp, who was researching his role in the movie adaptation of Fear and Loathing in Las Vegas.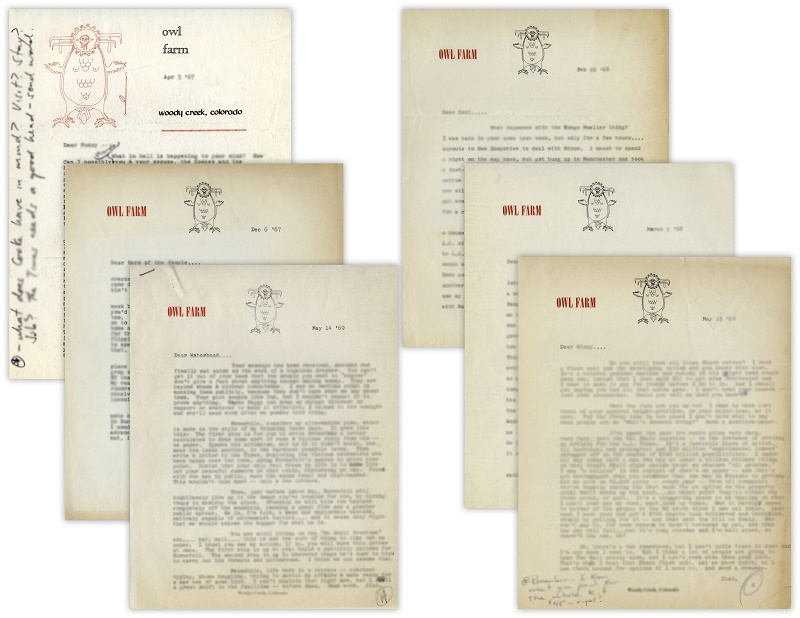 In June 1965 Thompson received payment to write what would be his breakthrough book chronicling his adventures with the Hell's Angels.
He wrote: "…$6000 guarantee against royalties for a paperback on Cycle gangs…Things are hopping and I shouldn't be writing letters. I have to whip up an outline for the Cycle book and right now I don't have the vaguest idea what I'll write…Incredible. I've been drunk for two weeks."
A month later, whilst working on the book, he wrote: "It has finally come home to me that I am not going to be either the Fitzgerald or the Hemingway of this generation…I am going to be the Thompson of this generation, and that makes me more nervous than anything else I can think of…"
Throughout the period Thompson describes his financial problems, his struggles to complete books and articles, his worries about fatherhood and his wild adventures with drugs, alcohol and hand-guns.
These letters contain glimpses of the writing which would eventually evolve into his own 'Gonzo' style, and the classic 1971 book 'Fear and Loathing in Las Vegas'.
The collection also includes one of Thompson's most famous letters, written in response to the assassination of President John F. Kennedy in November 1963:
"I am trying now to compose a reaction to the heinous, stinking shit-filled thing that occurred today…That the bullet should have come from the Far Left is the filthiest irony of all…I started to cry but figured that was not called for, so cursed instead…Where do we go from here?"
In August 1968 he writes about his experience at the Democratic National Convention, during which protestors were savagely beaten by the Chicago police. Thompson was caught up in the rioting, and the experience deeply affected his political views for the rest of his life.
His brief letter to Semonin also contains the phrase "fear and loathing" which would become his trademark:
"I came & watched it happen – & it's true. Are you ready for the crunch? A redistribution of the cattle-prods. Fear & loathing. Beware / Raoul"
One of Thompson's final letters to Semonin reveals his thoughts on capitalism and corruption in America – a philosophy which remained with him for the rest of his life:
On 14 May 1969 he wrote: "You can't get it out of your head that the people you want to 'expose' don't give a fuck about anything except making money. They are beyond shame & without conscience. I see no serious point in mocking them publicly, because they don't care what we say about them…"
The collection of letters forms an important literary archive from one of America's most unique voices, whose examination of the dark side of the 'American Dream' remains as vital and compelling as it did six decades ago.