An unseen archive of letters revealing the early life of Playboy founder Hugh Hefner is heading for auction in Chicago this month.
Potter & Potter Auctions will offer the collection of more than 60 personal letters written by Hefner to Jane Borson, one of his closest school friends.
The archive of correspondence dates from 1943 to 1946, during Hefner's last year at Steinmetz High School in Chicago, and his two years of military service at reserve camps in Wisconsin, Texas, Oklahoma, Virginia and Maryland.
The collection, which offers a valuable insight into the life of one of America's most iconic cultural figures, is expected to fetch $10,000-20,000 when it hits the block on July 28.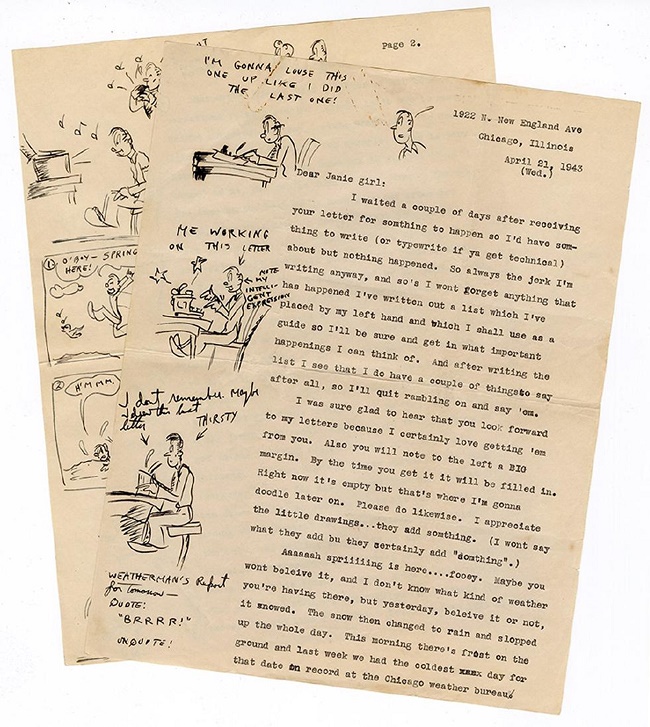 "This archive reveals the private, personal, pre-Playboy side of Hugh Hefner – something very few, if any of his millions of fans got a glimpse of," said Gabe Fajuri, president at Potter & Potter Auctions.
"Hefner lived on a grand scale, and was constantly in the spotlight, yet the letters he exchanged with his high school classmate show he was not just larger-than-life – he could also be down to earth. Offering historically significant, unique material of this nature is a true thrill."
Hefner and Borson dated each other's best friends in high school, and when Borson's family moved to California in the mid 1940s they began a correspondence which would last eight decades.
Along with the letters, which cover everything from his romantic entanglements to his attempts at song writing, the archive also includes unpublished photographs of a fresh-faced Hefner with his friends, and his first marriage – to Millie Williams in 1949.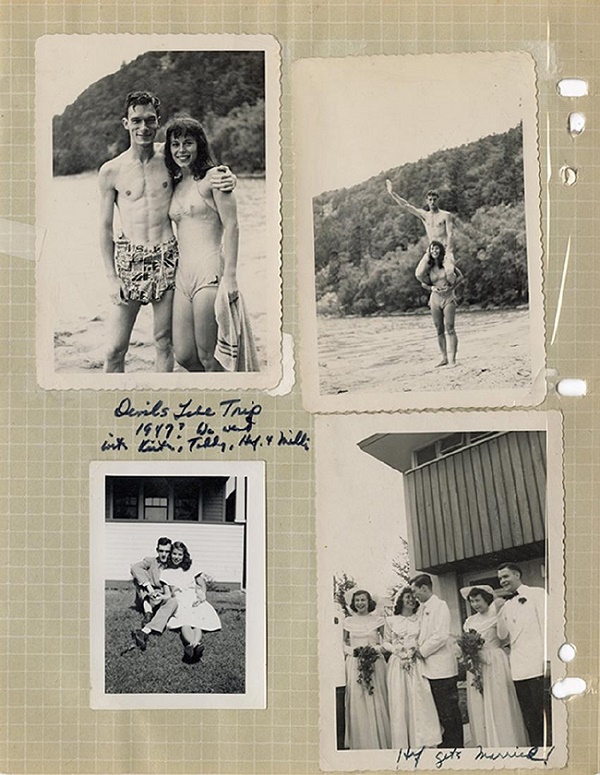 Several of the letters mention 'The Star', Steinmetz High School's newspaper where Hefner honed his talents as both a writer and a cartoonist.
He maintained an interest in the student publication for the rest of his life, and in his later years donated $7,500 a year to cover printing costs, ensuring the paper's survival.
As a teenager Hefner also created a semi-autobiographical comic book, School Daze, allowing the shy intellectual to become the star character in his own imagined story.
Alongside the letter archive, the Potter & Potter sale will feature several examples of his comic strips, depicting his everyday life and his gang of friends.
The cartoons, estimated at up to $2,000 each, are a superb illustration of both Hefner's artistic abilities, and his legendary fondness for the opposite sex.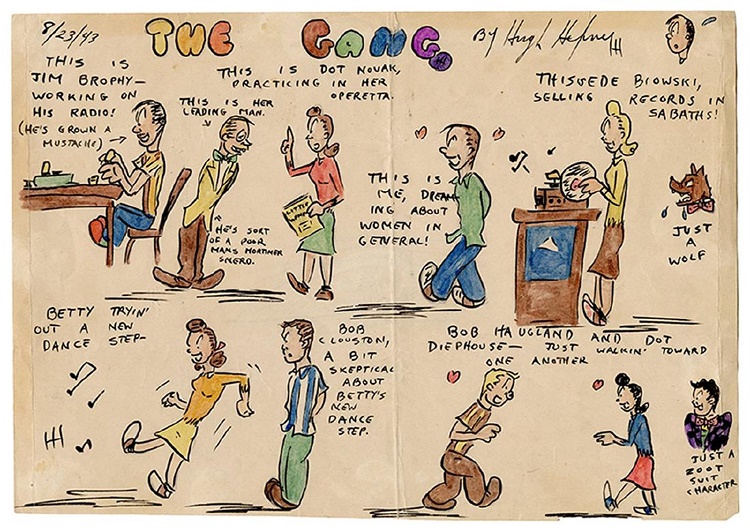 In one sketch depicting his friends, the caption above his own self-portrait reads: "This is me, dreaming about women in general," and in another he writes: "Here I am hurrying down the hall to a late class or a girl or whatever I do hurry about (It's probably not a girl. I'm not hurryin' fast.)".
Following his military service, where he wrote for the Army newspaper, Hefner studied creative writing and art at the University of Illinois, before landing a job at Esquire Magazine.
But a dispute over a $5 raise saw him leave the magazine in 1952 with the dream of creating his own publication – and a year later Playboy was born.
The success of the iconic publication made Hefner a household name for more than 60 years, and allowed his to live out the fantasies he once only wrote about in School Daze.
Other notable lots in the sale include a song written by Hefner as a teenager, entitled 'Blue Blues', a 30-year run of his personal Christmas cards sent between 1986 and 2016, and a high school photograph inscribed: "To one of the sweetest, swellest gals I know" – his lifelong friend, Jane Borson.