A pearl and diamond pendant once owned by Marie Antoinette sold for an incredible $36 million at Sotheby's this week, soaring above its estimate of $1 million.
The pendant was part of a collection of jewels originally owned by last Queen of France, who was famously beheaded in 1793 during the French revolution.
The remarkable collection had not been seen in public for over 200 years, and was offered for sale in Geneva by Italy's royal Bourbon-Parma house.
The pendant set a new world record price for a natural pearl at auction, exceeding to previous record of $11.8 million set in 2011 by a necklace belonging to Elizabeth Taylor.
The auction featured 10 items originally owned by Antoinette, all of which sold for a combined total of $42.7 million against a pre-sale estimate of just $1.6 – $2.9 million.
"Tonight we saw the Marie Antoinette factor work its magic," said Daniela Mascetti, Sotheby's Jewellery Chairman, Europe.
"No other queen is more famous for her love of jewels, and her personal treasures, pearls and diamonds that survived intact the tumults of history, captivated the interest of collectors around the world."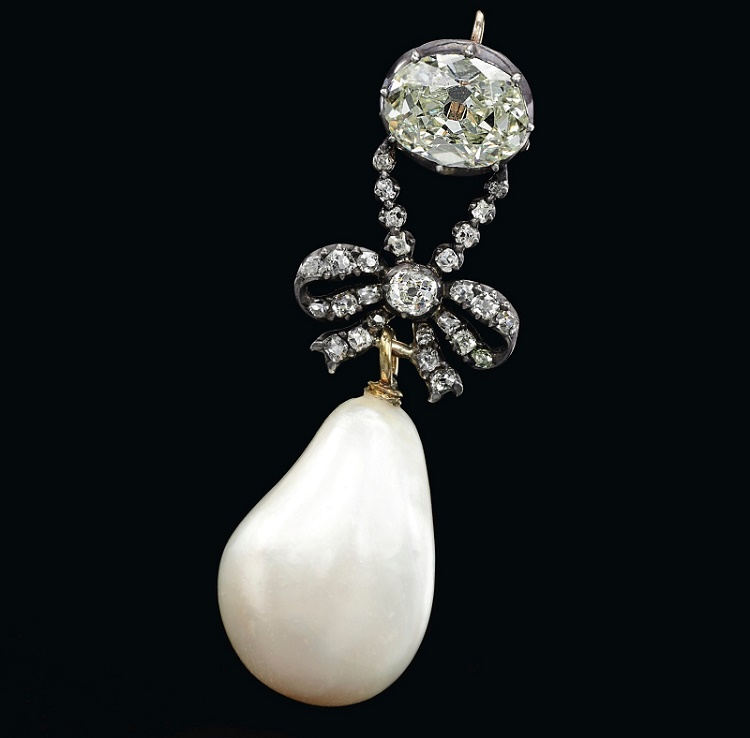 It was partly the Queen's love of luxurious jewellery that ensured her fate, as the French people rose up against the monarchy during the French revolution.
As the Royal family prepared to escape the country, Marie placed her collection of diamonds, rubies and pearls in a wooden chest, which was then secretly transported to Austria by her loyal retainer Count Mercy Argentau.
Although Marie's jewels made their way to safety, the Queen and her family were not so lucky.
Captured whilst attempting to flee from Paris, Marie and her husband King Louis XVI were executed by guillotine and their 10-year-old son Louis-Charles died of a scrofulous infection in prison.
Only their teenage daughter Marie Thérèse survived the 'Reign of Terror', and was eventually released from prison in 1795 after three years of solitary confinement.
She then fled to Vienna, where she where she was able to reclaim her late mother's jewels, and the collection later passed to the Bourbon Parma family, which has close ties to the royal families of France, Italy, Spain and Austria.
The Sotheby's sale offered 100 pieces from the Italian family's collection, every one of which was snapped up in a bidding frenzy which saw lots achieve many multiples of their estimates.
The auction realized a final total of $53.1 million, making it the biggest royal jewellery sale in history. The previous record of $50.3 million, set by the jewellery collection of the Duchess of Windsor, has stood since 1987.
"More than thirty years ago, I was part of the specialist team entrusted with the landmark sale of the jewels of the Duchess of Windsor – a sale that has held a legendary status ever since," said David Bennett, Worldwide Chairman of Sotheby's International Jewellery Division.
"Tonight a new benchmark was established in the sale of Royal and Noble jewels, a field in which Sotheby's has been the pioneer for many years."