A sketch by Austrian artist Egon Schiele worth up to $200,000 has been discovered amongst donated items at a New York thrift store.
The rare artwork was found in a Habitat for Humanity store in Queens, and is now set to sell as part of an exhibition in Manhattan.
Entitled 'Reclining Nude Girl', the sketch dates from 1918, just months before Schiele died at the age of just 28 after contracting the Spanish Flu.
Egon Schiele's paintings have been known to sell for up to $40 million, and even his works on paper have fetched seven-figure sums at auction.
According to reports, the sketch was found by a part-time art handler who wishes to remain anonymous, which searching through boxes of donated items that could easily have ended up as landfill.
He then contacted Jane Kallir, director of the Galerie St Etienne and the author of Schiele's catalogue raisonné, to help authenticate the work.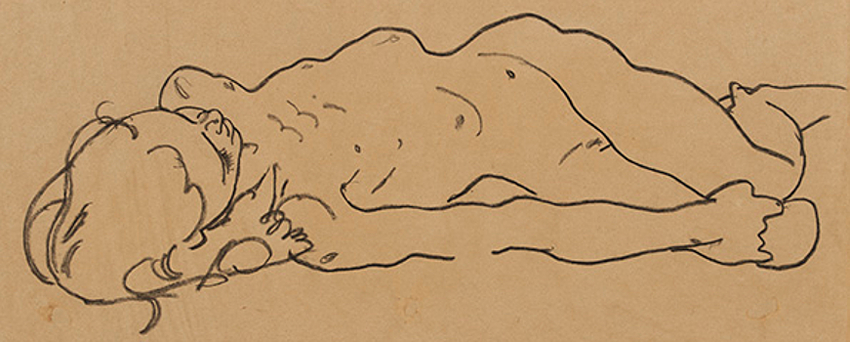 In an interview with The Art Newspaper, Kallir said the majority of cases she had encountered in her 30-year career ended in disappointment.
"Ninety percent of the time they're wrong. Most of them are fakes—egregious copies."
However, something in the quality of the sketch suggested to Kallir that this could be an exception, and she decided to dig further.
Having finally examined the sketch in May 2019, she was happy to proclaim it was indeed a genuine Egon Schiele artwork.
"If you look at the way this girl is lying on her back, and you look at the foreshortening both on the rib cage and on her face, and the way you see that little nose pointing up—think about how difficult that is to do," said Kallir.
"There are very few people in the history of art who can draw like that."
Kallir was able to identify the girl in the sketch as a model Schiele regularly worked with, and placed the drawing in a series of studies for the artist's final lithograph 'Girl'.
The artwork will now feature in a new selling exhibition entitled 'The Art Dealer as Scholar', which also includes works by the likes of Käthe Kollwitz and Alfred Kubin.
The owner has stated that a portion of the proceeds from the sale will be donated back to Habitat for Humanity, a nonprofit housing organization which serves to built and improve homes in over 70 countries around the world.
'The Art Dealer as Scholar' exhibition runs at the Galerie St Etienne from July 16 until October 11, 2019.