David Hockney's masterpiece 'Portrait of an Artist (Pool with Two Figures)' looks set to become the world's most expensive artwork by a living artist.
Described as "one of the most quintessential canvases of the 20th Century", the painting will cross the block at Christie's in New York this November with an estimate of $80 million.
The current auction record for a work by a living artist was set back in 2013, when Jeff Koons' monumental sculpture 'Balloon Dog (Orange)' sold at Christie's for $58.4 million.
The work is one of Hockney's most famous 'Swimming Pool' paintings, a subject which he became obsessed with when he moved to California from London in the early 1960s.
It is also part of his 'Double Portraits' series, completed between 1968 and 1972, and generally regarded some of the finest works of his career.
The Christie's auction in November will mark the first time a painting from this series has appeared at auction in over 25 years.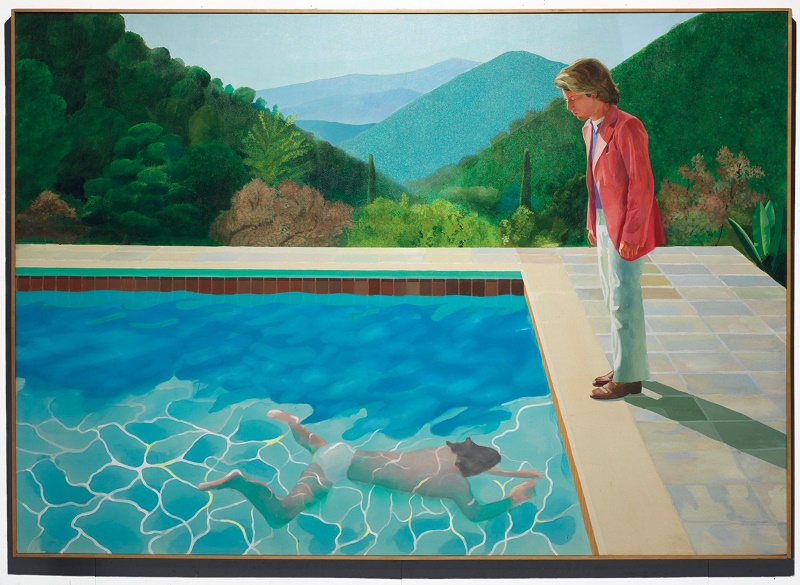 "David Hockney's brilliance as an artist is on full display with this monumental canvas, which encapsulates the essence of the idealized poolside landscape, and the tremendous complexity that exists within human relationships," said Alex Rotter, Co-Chairman of Post-War and Contemporary Art.
"With this painting, Hockney cemented his placement within the realm of history's most venerated artists, and come November, it is poised to become the most valuable work of art by a living artist ever sold at auction."
The sale would also smash the current record for a Hockney work, set by the 1990 painting 'Pacific Coast Highway and Santa Monica' which sold at Sotheby's in May 2018 for $28.5 million.
According to several reports, the painting has been consigned by British billionaire investor Joe Lewis, whose art collection contains works by Picasso and Francis Bacon and is estimated to be worth $1 billion.
The painting depicts Hockney himself as the swimmer, with his lover and muse Peter Schlesinger standing above him on the edge of the pool.
The creation of the painting was famously chronicled in Jack Hazan's 1974 film 'A Bigger Splash', which documented the disintegration of the couple's turbulent five-year relationship.
When the couple eventually split up in 1971, Hockney was heartbroken – but it marked the beginning of one of the most creative and productive periods of his career.
Hockney constantly reworked the first version of the painting until it was completely destroyed. He was then inspired to create a new version by a pair of photographs he found scattered on the floor of his studio.
One featured a swimmer beneath the water of a pool, and the other depicted a boy staring at the ground. Placed together, it appeared to Hockney that the boy was staring at the swimmer, and he used the accidental juxtaposition to create a new composition.