Two guitars played by grunge and Generation X icon Kurt Cobain's are heading towards the million dollar mark in pre-sale bids for their November sale.
The late Nirvana frontman is surely the most collectible modern rock figure, and these two instruments – one smashed, one intact – are among the best of his guitars to come to sale.
The record for a Cobain guitar is the $6 million paid in 2020 for the 1959 Martin D-18E acoustic guitar he played in the MTV Unplugged show in 1993.
Last show
The Skystang I is listed with an estimate of $1,000,000 – $2,000,000 and has a bid of $700,000 well in advance of the November 17 to 18 sale.
The Fender Mustang is exhaustively documented, down to the serial number, O 016988.
Cobain played the Sonic Blue instrument throughout the band's 1993 – 94 In Utero tours, including at the band's last ever show at Terminal 1, Flughafen, in Munich.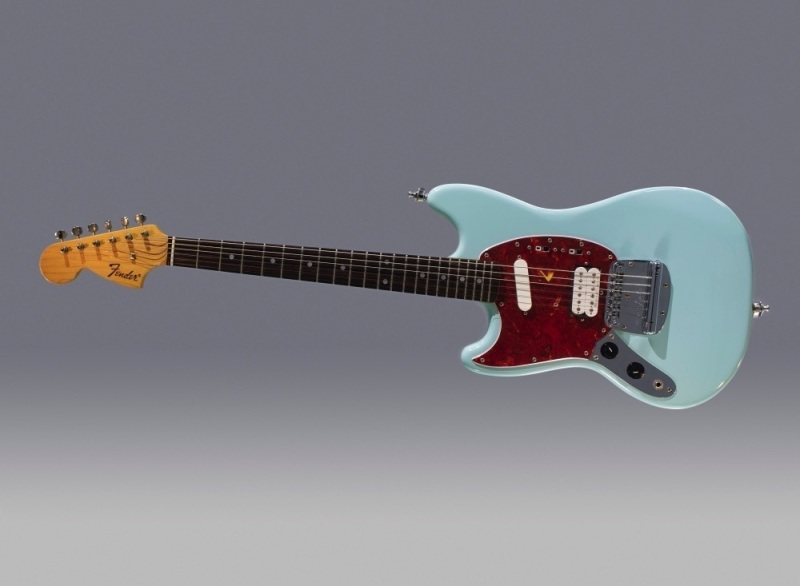 The Skystang I is a Japanese-made left-handed Fender Mustang
Smashed by Cobain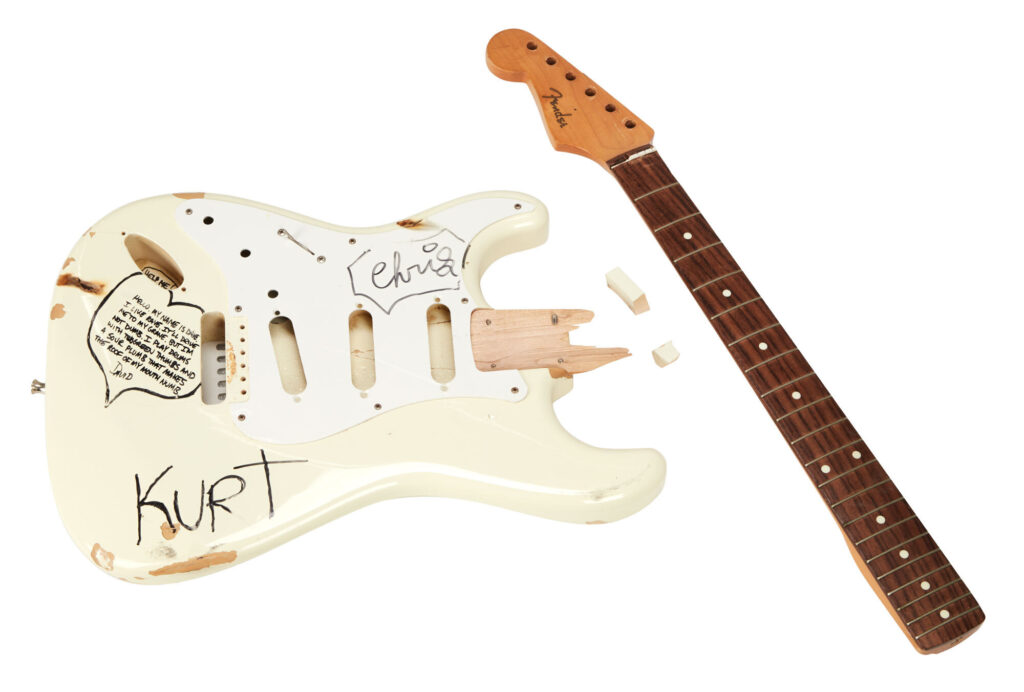 This Stratocaster was played and damaged by Cobain several times before it was given to a competition winner.
The second Cobain guitar at the sale is a cream Fender Stratocaster played and smashed by Cobain in Buenos Aires on October 20, 1992.
It was given to a British fan as the prize in a BBC radio competition.
The guitar has already attracted a $200,000 bid against a top estimate of $700,000.

It is signed by Cobain and Nirvana bassist Krist Novoselic and with a poem written by drummer Dave Grohl. :

The guitar has been linked to several Nirvana shows and was smashed at least once and repaired.
Iconic figure
Kurt Cobain took his own life in 1994. He had been lead singer and guitarist in Nirvana, whose unlikely hit Smells Like Teen Spirit made the band the biggest rock act of their time.
Guitars have been the most valuable items associated with him to reach sale rooms, with several making hundreds of thousands of dollars. Set lists and lyrics can raise 10s of thousands of dollars, and the cardigan he wore in the MTV Unplugged show raised an extraordinary $334,000 in 2019.