An extensive collection of highly sought-after Jerry Garcia and Grateful Dead memorabilia will be sold at auction on November 18 – 20 in the United States.
The more than 200 lots are from the estate of the late Vince and Gloria DiBiasi, who were close friends of and assistants to the 60s rocker in his final years.
This is a rare opportunity for Jerry Garcia memorabilia collectors and Deadheads – as the Grateful Dead's diehard fans are known – a rare chance to own intimate pieces from Garcia's life and career.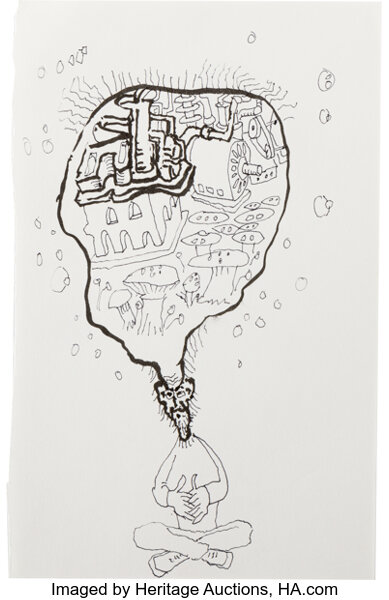 A sketch by Garcia is among the items in his close friends' archive.
Standouts for music memorabilia buyers include: Garcia's briefcases with personal letters and original song sketches. Jerry Garcia Band lyrics and setlists handwritten by the singer. Several pairs of his signature Ray-Ban sunglasses. And Grateful Dead backstage passes and tour posters from some of the band's famously long, freeform shows.
Garry Shrum, Director of Entertainment & Music Memorabilia at Heritage Auctions, says "This is a real inside look into the life of an icon."
Musician and artist
Garcia's artwork also features prominently in the DiBiasi archive auction.
The singer, who is indelibly linked with San Francisco's hippy culture, had a lifelong dedication to visual arts. He produced countless sketches, digital prints, and other works throughout his life.
The DiBiasi's relationship to Garcia was sparked by a shared love of art.
"Art is my way of leaving something behind, of creating something that will outlast me," said Garcia.
The sale includes original sketches dating back to the 1970s and more recent digital art works.
For Grateful Dead fans and collectors, the sale provides an unprecedented opportunity to own a piece of music history.
Jerry Garcia's widespread influence should see fierce bidding for these extremely rare artefacts direct from Garcia's inner circle.