Banksy's artworks regularly sell for six or seven-figure sums at auction – but now one of his most famous recent sculptures could be yours for just $2.50.
The sculpture depicting a crowded boat full of refugees is entitled 'How heavy it weighs', and was originally installed at Banksy's Dismaland "bemusement" park in 2015.
The mysterious street artist is offering the artwork in a raffle to raise funds for Help Refugees, an international charity which provides emergency aid and long term solutions to the international refugee crisis.
The sculpture will be presented to whoever can guess its exact weight, with entry to the competition costing a minimum donation of £2 ($2.50).
The competition closes at 8pm GMT on December 22nd, 2018.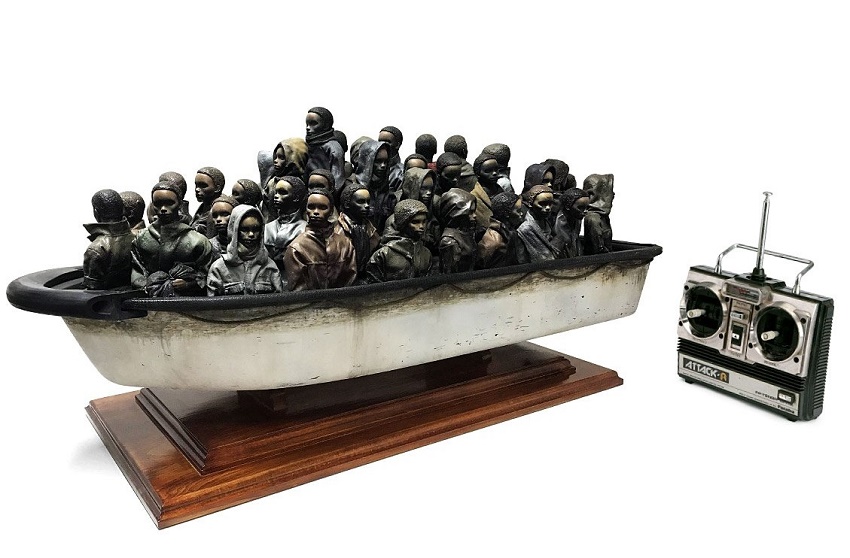 "Is it a darkly satirical work of art or a remote control toy in very bad taste? It might be both," states the charity's website. "It certainly is unique and it could be yours in time for Christmas…"
The sculpture was originally created for the temporary Dismaland art installation, during which he built an entire theme park in the British seaside town of Weston Super-Mare.
Dismaland was billed as a "family theme park unsuitable for children", and featured the artist's notoriously dark sense of humour and political commentary.
Attractions included a fairtytale castle containing a dead Disney princess surrounded by paparazzi; a stall offering children pocket money loans at exorbitant interest rates; and an information centre which was permanently closed.
The park also featured dozens new artworks by acclaimed international artists, and hosted musical performances by the likes of Fatboy Slim, Massive Attack and Run the Jewels.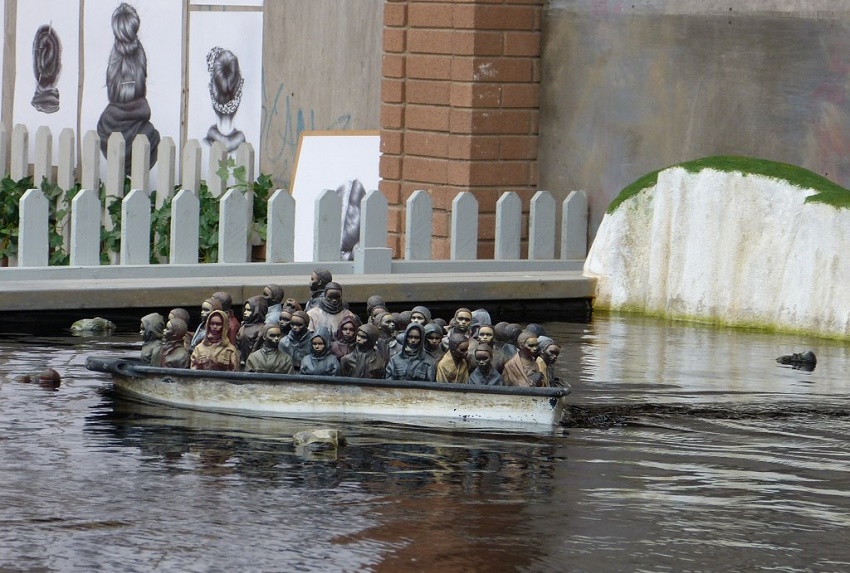 The migrant boat was one of three that visitors could operate via remote control, as they tried to dodge a police boat under the shadow of the White Cliffs of Dover – the famous landmark which greets travellers as they approach the shore from the English Channel.
Many of the works on display at Dismaland aimed to raise awareness of the refugee crisis, and criticized the response of governments around the world.
Following a five-week run, the theme park was dismantled and all the wood and structural elements were donated to help build shelters at the French refugee camp known as the 'Jungle'.
The sculpture is currently on display at the Choose Love pop-up store on Carnaby Street in London, and more information on how to enter the competition or donate to the charity can be found on their website here.