A typewriter used by Hugh Hefner to create the first Playboy magazine has sold for more than $150,000 at an auction in Los Angeles.
The sale at Julien's Auctions on November 30 featured hundreds of items from the estate of Hefner, who passed away in 2017 at the age of 91.
The typewriter was the sale's top lot, achieving an impressive price of $162,500 against a pre-sale estimate of $2,000 – $4,000.
Hefner had originally used the Underwood Standard Portable typewriter whilst at the University of Illinois, where he studied psychology and creative writing before starting his career as a copywriter.
He finally decided to found his own magazine in 1953, after he quit his job at Esquire because they denied him a $5 raise.
He mortgaged his home for a loan of $600, and raised a further $8,000 from 45 investors which included his brother and his mother. "Not because she believed in the venture, but because she believed in her son," he said in 2006.
Hefner originally wanted to call his magazine Stag Party, but was forced to change his mind to avoid legal action from Stag Magazine, and landed on Playboy instead.
He produced the magazine from his kitchen table on the South Side of Chicago, writing article and using a nude pin-up of Marilyn Monroe he'd managed to secure for the price of $500.
Hefner was so unsure of how the magazine would fare that he didn't even date it, assuming it would be the only edition he ever published.
However the magazine proved a sensation, selling more than 50,000 copies in a matter of weeks, and the Playboy media empire was born.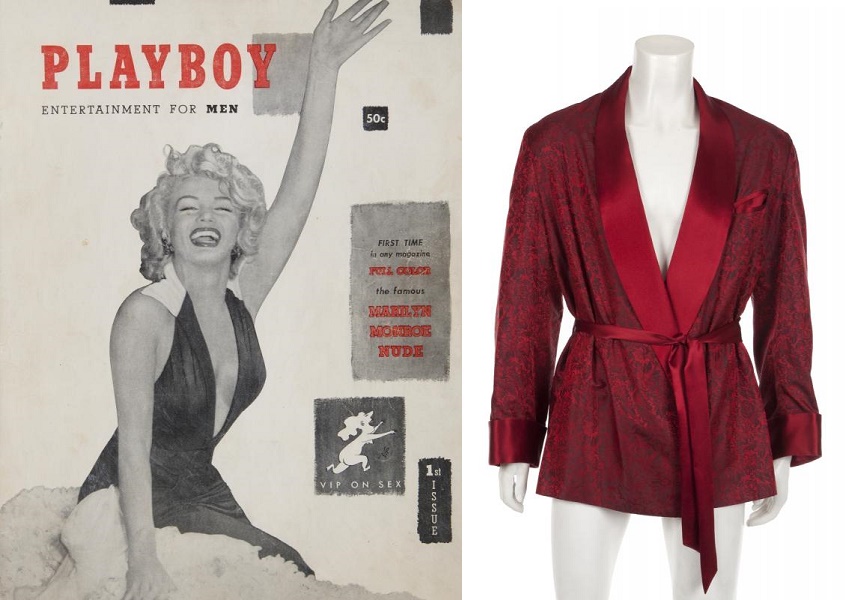 Hefner's personal copy of that first issue also crossed the block at Julien's, selling for $31,250 (more than six times its estimate), and his entire archive of bound copies running from 1954 through to 2013 sold for $76,800.
Further highlights from the sale included a pair of his custom-made red silk smoking jackets, which sold for $41,600 and $38,400 respectively; his star from the Hollywood Walk of Fame, which realized $57,600; a leather Chesterfield sofa from the Playboy Mansion which fetched $34,375; and his personal Playboy Club membership card, numbered 'VIP 1', which soared to $32,000 against an estimate of just $600.
And one lucky bidder found themselves the owner of Hefner's 14K yellow gold ring, featuring a secret compartment in which he had stashed a blue Viagra pill in case of emergency. The ring was valued at $600 – $800, but sold for a final price of $22,400.