An Ancient Egyptian limestone stele will star in an antiquities auction at Sotheby's London on July 3 with a valuation of £120,000-180,000 ($158,011-237,017).
The beautifully preserved lot is covered in hieroglyphs and illustrations. It's addressed to the gods of the underworld, Osiris and Anubis, and asks them to prepare for the arrival of a "Sailor of the [Fayum] lake Maya" and "His wife, mistress of the house Nub-emhenuti".
The text requests that they be given "bread and beer, meat and fowl, linen and clothing, incense and oil, cool water, wine, milk and everything good and clean".
One of the lots previous owners was the Greek archaeologist and antiques dealer Giovanni d'Athanasi (1798-1854), who discovered several important Egyptian tombs.
Florent Heintz, head of ancient sculpture at Sotheby's, said: "Not only does this year's sale offer an incredible selection of objects spanning 2,600 years, but, through dogged and comprehensive research, we have been able to trace several of the objects back to important collections, and to identify works of art once thought lost".
Among these lost works is a Roman fresco from the collection of gothic author Horace Walpole (1717-1797).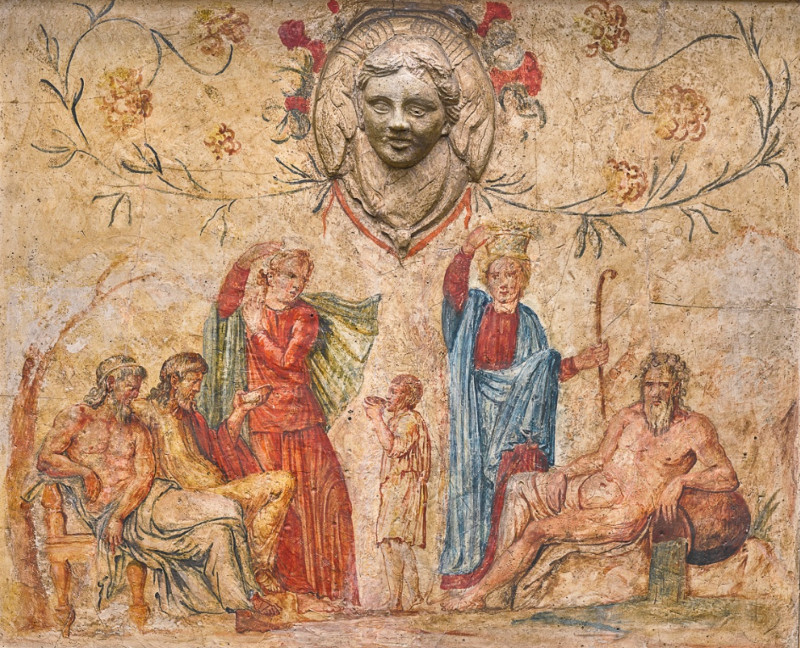 The top half of the fresco displays a head surrounded by flowers and dates to the 2nd century AD. At the bottom is a painting showing people in Roman clothing celebrating at the festival of a river god. This section was added later, during the 18th century. Walpole probably picked it up during his grand tour of Europe.
Walpole was the author of the Castle of Otranto, regarded as the first gothic novel (later additions to the category includes Dracula, Frankenstein and Wuthering Heights).  He kept this fresco in the library of his country bolthole, where it remained until it was first sold in 1842. The piece is valued at around £15,000-20,000 ($19,751-26,335).