The original handwritten telegram which announced the death of President Abraham Lincoln is going up for sale in the U.S next week.
The remarkable document will be offered by historic memorabilia specialists The Raab Collection with a price of $500,000.
The telegram was handwritten by Thomas Eckert, Lincoln's close friend and chief telegrapher, who was at the President's bedside when he died.
It reads simply "Abraham Lincoln died this morning at 22 minutes after seven."
The telegram was recently discovered amongst the papers of a Civil War General, and has been described as "one of the most important historical documents [ever]offered for sale".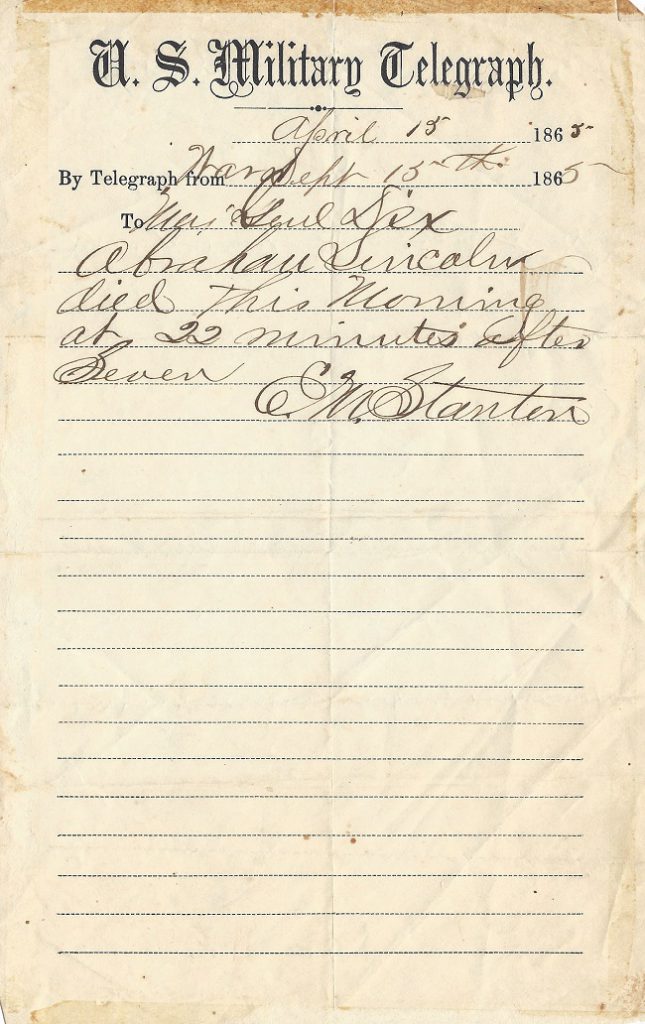 Abraham Lincoln was shot by John Wilkes Booth at approximately 10 pm on April 14, 1865, whilst attending a performance at Ford's Theatre in Washington D.C.
As Booth leapt out of the Lincoln's box to make his escape, the President was swiftly attended by Dr. Charles Leale, who examined the wound in his skull and knew it would prove fatal.
Yet Leale managed to revive Lincoln, and a group of men carried the President out of the theatre and across the street into the boarding house of tailor William Petersen.
It was there that a group of Lincoln's family members and government officials rushed to his bedside. Amongst them was Major Thomas Eckert, head of the War Department telegraph office and Lincoln's confidential telegrapher.
A chain of communication was swiftly set up between the Petersen House and the War Department, and a series of telegrams was sent directly to General John Dix in New York, who distributed the news to the press.
These messages fired back and forth as Lincoln's condition deteriorated throughout the night, until he was finally pronounced dead at 7.22am on April 15.
Secretary of War Edwin M. Stanton famously exclaimed "Now, he belongs to the ages.", and Thomas Eckert's own diary entry for April 15 reads:
"7 o'clock 22 minutes. Our beloved President, Abraham Lincoln, breathed his last. I have been on duty at his bedside all night with the Secretary of War Edwin M. Stanton. My heart is too sad for expression."
Together, Stanton and Eckert then drafted the final telegram they had dreaded: the official announcement of Abraham Lincoln's death.
The note on the piece of paper was just ten words long, but it carried a weight of grief which would crush a nation.
That original handwritten telegram was given to a messenger, who ran it to telegraphers at the War Department, and it was never seen again – until now.
After being hidden away for over a century, the momentous document is now headed for the open market for the first time.