A 1978 watch that has never been sold at auction will be the star item at Philips November Geneva sale if estimates run true.
A Patek Philippe Nautilus in platinum is one of two items predicted to realise over $2million at the November 3 – 4 sale.
The other is a Rolex, reference 6062. It was the first automatic wristwatch to feature date and moonphase. It's case is of stainless steel and yellow and pink gold. It also has notably rare – one of two – calendar and moon phased complications. The watch Philips are selling is, they say, acknowledged as probably the best example of this reference to come to market in recent years.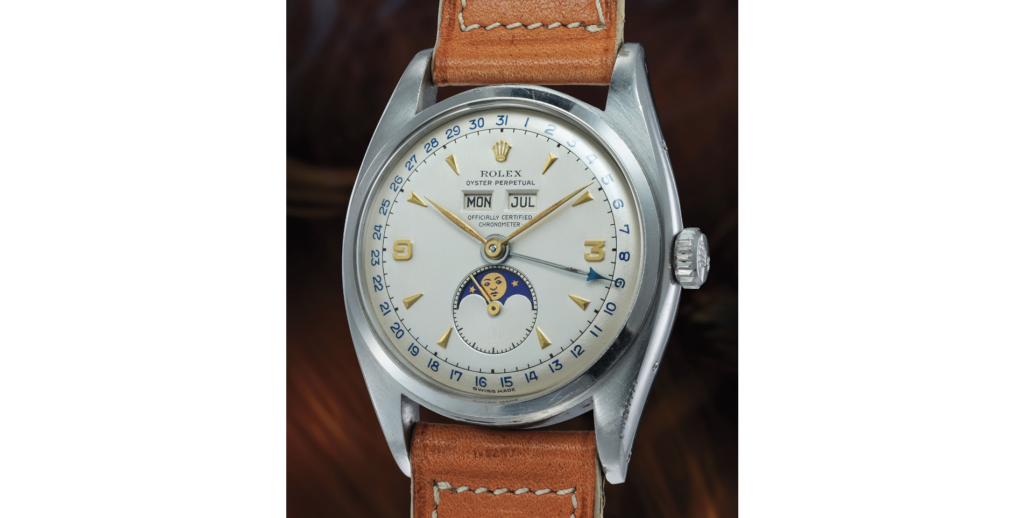 Rolex Ref. 6062 with triple calendar wristwatch, moonphases and two-tone dial.
Such comparisons are less easy to make for the Patek Philippe Nautilus, which has never before been auctioned.
The design, by Gérald Genta, riffed off ship's porthole. A quick sketch becoming a timeless classic.
Battered by the advent of digital quartz-regulated watches, Patek Philippe boldly produced a top-pf-the-range watch in steel rather than gold.
The example Philips are offering in Geneva is probably the high point of the opus.
It is a platinum reference 3700. An incredibly simple design, the Nautilus platinum is undoubtedly luxurious, but its luxury follows its superb adherence to function.
This example was a gift, and one of only 3 so-far known platinum-cased models, that were probably bespoke special orders.
Further, it is signed on the dial for Gübelin, probably the world's greatest luxury watch retailer.
It is almost certainly a unique item. A father presented it to his son, who sold it to the present consignor.
The condition is said to match that history.
Philips are describing the watch as a "white whale" such is its rarity.
Both watches are listed with estimates of 1million to 2million Swiss Francs. That's around $1.1million to $2.2million or around £900,000 to £1.8million.
The Geneva Watch Auction: XVIII takes place online and in Geneva on November 3 to 4.