An incredible collection of Madeira wine dating back more than 200 years is heading for sale at Christie's, after it was discovered hidden in the basement of a U.S museum.
The rare bottles were found in 2015 during restoration work at The Liberty Hall Museum at Kean University, New Jersey, when a false wall erected during Prohibition was removed to reveal a secret compartment.
Inside, buried beneath a thick layer of dust and cobwebs, were almost three cases of Madeira wine dating from 1796, along with a variety of other spirits.
Further investigation of the museum revealed another 40 demijohns (large bottles) of Madeira from the 1820s stored in an attic closet, buried beneath piles of straw.
Now the historic bottles are set to fetch tens of thousands of dollars when they hit the auction block in New York on December 7.
"Christie's is honored to be entrusted with the sale of this incredibly rare selection of early Madeira," said Edwin Vos, Christie's Head of Wine for Continental Europe.
"The journey from discovery to the uncorking, tasting, and cataloguing of these century-old vintages has presented a once-in-a-lifetime opportunity for our specialist team and an extremely rare buying opportunity for collectors."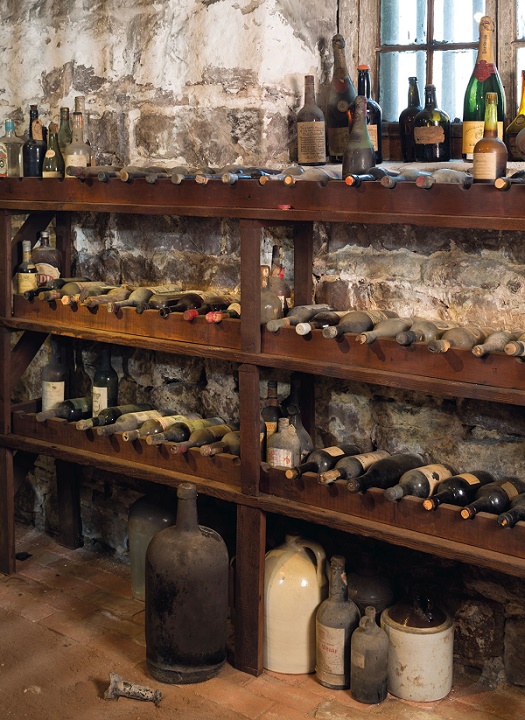 Madeira is a fortified wine made on the Portuguese Madeira Islands, situated off the North coast of Africa. Due to the way it is produced, Madeira never spoils and remains perfectly drinkable for literally hundreds of years – making the bottles discovered in New Jersey highly sought-after by collectors.
"This is a landmark moment, as this discovery not only represents one of the largest collections of early Madeira in the United States, it also signifies the timelessness and lasting quality of Madeira wine," added Francisco Albuquerque, Winemaker for the Blandy's Madeira Wine Company, S.A.
"This auction offers a remarkable opportunity to not only own a piece of history, but to experience it."
The wine was hugely popular amongst the elite in Colonial era and the early years of the United States, at a time when no wine-quality grapes could be grown on American soil.
The nation relied heavily on imported wine, with historic records showing that up to 95% of all the wine produced on Madeira was shipped to the U.S during that period.
One of those importers was Robert Lenox, Esq., a banker and financier whose name remains on the handwritten labels of three cases from 1796.
Lenox was known to buy large quantities of Madeira in barrels or demijohns, then bottle and label it once it arrived in America. More than two centuries on, these historic bottles are expected to sell for $6,000-8,000 each.
"The cellar was filled with lots of dusty bottles and wooden cases of liquor that hadn't been opened for at least 100 years," said Bill Schroh Jr., Director of Museum Operations.
"Little did we know that we would uncover several cases of Robert Lenox's Madeira from 1796. We had no idea what we had until we began to do the background research and realized we had something very rare for the United States."
The large 19th five-gallon century demijohns, still stored in their original wicker baskets, will be offered with an estimate of $35,000 – $55,000 each.
John Kean Sr., the current President of Liberty Hall, revealed that when they were first discovered nobody could have guessed at their true value.
"I was going to give them away to our employees because they liked to make lamps out of them," he told Christie's. "Fortunately that did not occur."