A personal collection of over 200 pieces of Prince memorabilia, including iconic fashion items and rare musical artefacts, is set to be auctioned off next week. The collection was amassed over 20 years by Bertrand Brillois, a French businessman and devoted fan of the artist.
Buyers can pick up some of Prince's most famous stage outfits in the online auction that runs until November 16.
From legendary performance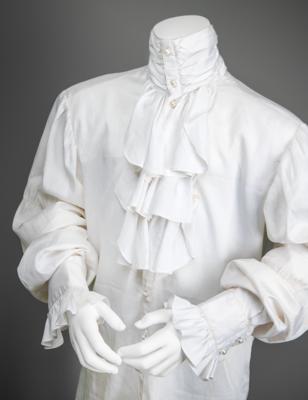 A shirt worn at one of Prince's most famous performances, at the 1985 American Music Awards.
They include a ruffled white silk shirt worn during a monumental performance of "Purple Rain" at the 1985 American Music Awards. The shirt is typical of Prince's look during the period, which is represented by 30 lots in the sale. It is currently at around $5,000.
Prince's deep personal investment in every part of his artistic persona is illustrated by sketches, swatches, and notes on costume and image development.
"You can see the creative process by which Prince and these designers were making these garments," said RR Auction executive Bobby Livingston.
Master tapes from best albums
Those focused on the artist's music will immediately zoom in on master tapes of three classic albums: "Lovesexy," "Batman," and "Diamonds and Pearls".
Whoever buys the masters will get an inside look at the way the Minneapolis artists made some of the most enduring pop, rock, and funk music of the late 20th and early 21st centuries.
Prince was born Prince Rogers Nelson on June 7, 1958 in Minneapolis, Minnesota. He used a number of aliases during his career, including, for a period, a symbol.
Already an established funk artist, Prince broke out to international mega stardom in the 1980s. Purple Rain, an album and movie, gave him an enormous hit with its anthemic title track. He continued to produce prolifically across genres until his death, aged just 57, in 2016, at his purpose-built Paisley Park home and production facility.
A preview of the auction was held in the Chelsea Hotel, New York, earlier this month. Previous Prince sales have exceeded initial price predictions by as much as 10-times, and this is a rare chance to secure some extremely personal items.