Sotheby's will feature a collection of original artwork from the wildly popular Hong Kong comic Old Master Q in a second dedicated auction.
Created by Alphonso Wong in 1961 this strip (known as a mahuna in traditional Chinese parlance), features short slapstick influenced vignettes featuring the eponymous Master Q and his dumpy friend Big Potato.
The comic is huge in Asia, but unknown in the west by all but a small population of connoisseurs.
Wong was highly subversive in his work, mercilessly ribbing both the ruling British powers and the rapid westernisation of society in Hong Kong. He published under the name Wong Chak (his son's Chinese title), which provided him with some anonymity.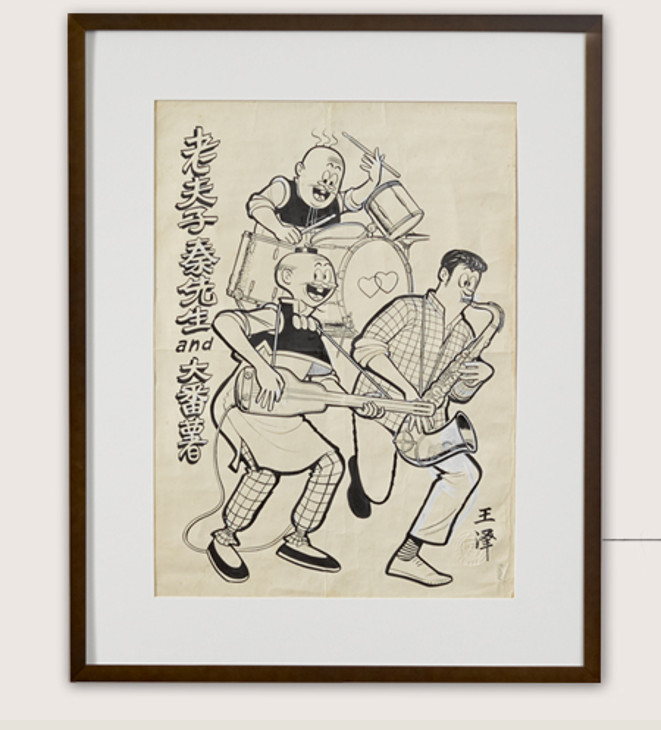 The illustrations will be available to view in Sotheby's auction rooms in the city between August 10-25, while the sale will be held online from August 1-17.
Alphonso Wong's son, Professor Joseph Wong, says: 'While it has now been over a year since my father's passing, Old Master Q maintains a strong hold over the hearts of its readers. To meet the strong collecting demand of Old Master Q artworks, I am thrilled to be working once again with our long-time partner, Sotheby's, in presenting my late father's final selling exhibition.
"I will also be offering my prized Old Master Q – Rock'n Roll original artwork, which is the cover of the second issue and the earliest original cover artwork extant, since the cover of the first issue is now irrecoverable. It is my honour to also bring to the exhibition my acrylic paintings series — The Implications, to commemorate the great achievements of my father."
The headliner will be an original cover for an issue of Old Master Q. Titled Rock and Roll, it shows the principal characters jamming – executed in Alphonso Wong's trademark style.
There's no word on estimates yet. In 2014, Sotheby's hosted a successful exhibition of Wong's work that sold out almost immediately. The auction house will be hoping for a repeat performance this time around.