The sale of a simple woollen jumper at a Sotheby's sale in September will illustrate the iconic status of the late Diana, Princess of Wales.
Diana was photographed in the red, black and white sheep sweater in 1981, 2 years after it was made by Sally Muir and Joanna Osborne for the Warm & Wonderful label.
Sotheby's first Fashion Icons Sale opens for online bidding August 31 listing the "black sheep" sweater with an estimate of $50,000-70,000 (around £40,000-55,000).
Diana wore the piece while watching her soon-to-be husband Prince Charles, competing in a polo match. The image – like Diana – caught the public imagination.
Muir and Osborne credit the picture with a surge in sales. The item was not made for Diana. though they did subsequently replace it for her.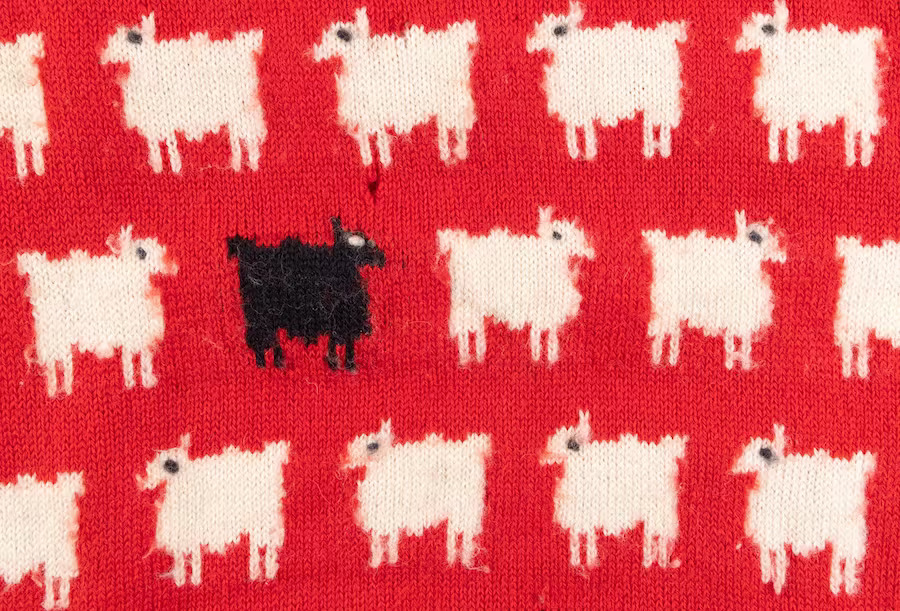 A detail of the sweater by Warm & Wonderful.
"Much to our amazement, the first we knew of Lady Diana Spencer wearing the sweater was when we saw her on the front page of one of the Sunday newspapers," the pair said.
It remained in production until 1994 but was reissued in 2020 to tie in with the design's appearance – worn by actor Emma Corrin – in The Crown. A replica is in the collection of the Victoria & Albert Museum.
Diana had returned her first sheep jumper when it was damaged. Its discovery by Muir & Osborne has led to this sale.
The most valuable Diana dress was sold by Sotheby's in January 2023. The purple velvet Victor Edelstein gown was worn for an official portrait in 1991. It realised £478,400 ($604,800).
Cynthia Houlton, Sotheby's Global Head of Fashion and Accessories said: "By combining high-end designer pieces with more attainable everyday apparel, Diana's style led to a wave of imitation and admiration – which remains steadfast to this day – leaving an indelible mark on the fashion world and solidifying the Princess as an icon in fashion history."
British royalty is fertile ground for collectors across any number of specialisms. Diana, who attracted relentless, invasive – and eventually fatal – press interest holds a particular interest. She was a celebrity in a way that transcended the public personas of most British royals. A letter from her describing the "triangle" in her marriage raised £8,750 earlier this year. A Ford escort Charles gifted her was sold for £52,640 in June 2021. A Virgin Atlantic sweatshirt she wore (reportedly to annoy press photographers) sold for £42,760 in 2019.
The most expensive item of clothing ever auctioned is the dress Marilyn Monroe wore to sing "Happy Birthday Mr. President" to John F Kennedy in 1962. It raised $1,267,500 in 1999.
Sotheby's Fashion Icons sale opens online on August 31.