One of the world's first electric light bulbs, produced more than 140 years ago, will be offered for sale at Bonhams in London next month.
The Instruments of Science and Technology in London on September 19 will feature remarkably rare glass bulb produced by the English inventor Sir Joseph Swann in 1877.
Although the historic bulb is no longer in working order, it remains an important artifact from the development of electric lighting, as is expected to sell for £4,000 – £6,000 ($5,100 – $7,700).
Joseph Swann (1828 – 1914) began experimenting with his initial designs in 1850, at the age of just 22, and patented his first working incandescent electric light bulb in 1860.
He then worked to improve his design throughout the 1870s, and in 1878 he gave the first demonstration of his new light bulb at a meeting of the Newcastle Chemical Society.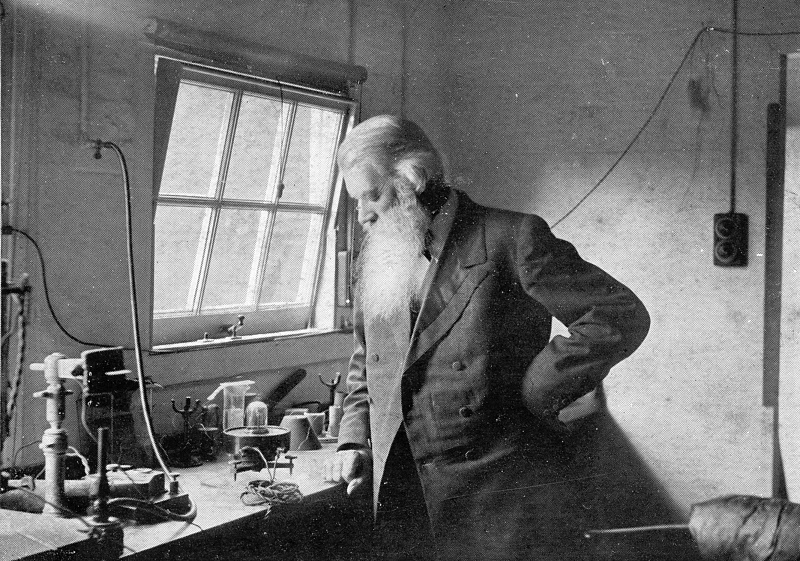 The bulb offered at Bonhams is one of the early prototypes produced by Swann, measuring 13cm (5″) long, and features one of his patented carbon-rod-filaments.
In 1880 Swann's house, Underhill in Gateshead, was the first home to have working light bulbs installed, and in 1881 he founded The Swan Electric Light Company, and started production on the very first commercial light bulb.
Soon after he was commissioned to install 1,200 bulbs at the Savoy Theatre in London, making it the first public building in the world to be lit entirely by electricity.
That same year Swann received the Legion of Honour whilst visiting the International Exposition of Electricity in Paris, and was later elected a Fellow of the Royal Society in 1894, before being knighted by King Edward VII in 1904.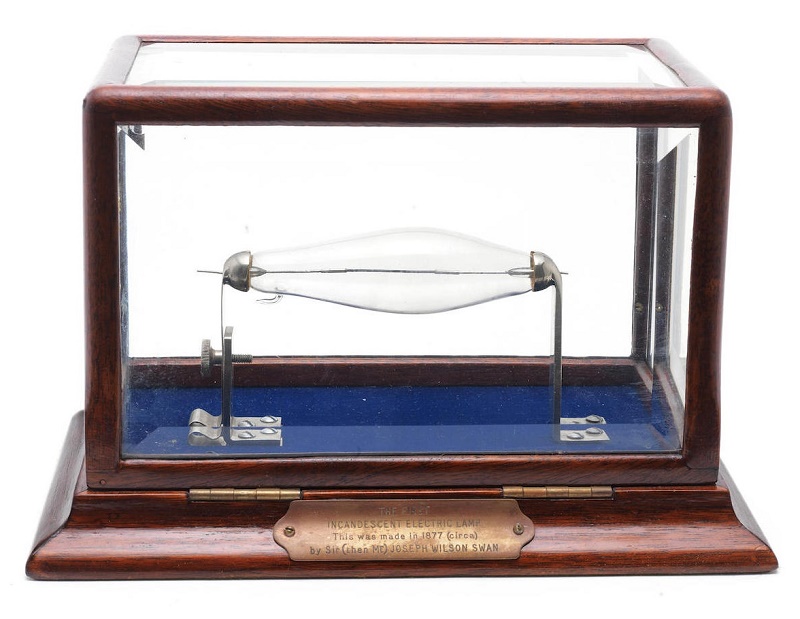 At the same time, more than 4,000 miles away in the U.S, Thomas Edison had been independently developing his own electric light bulb.
In 1883 they joined forces to form the Edison & Swan United Electric Light Company, with Edison holding light bulb patents in the U.S and Swann retaining his in Britain.
It was Edison who eventually developed the first widespread electric lighting systems, using his own system of electric-power generation and distribution.
Incredibly, the world's longest-lasting light bulb was produced just 24 years after Swann's early prototype.
The 117-year-old bulb, produced by the Shelby Electric Company in the late 1890s, has been burning since 1901 and is officially recognized as the oldest in existence by the Guinness Book of World Records, Ripley's Believe It or Not! and General Electric.
Known as the 'Centennial Bulb', it can currently be found illuminating Fire Station #6 at 4550 East Avenue in Livermore, California.