A rare menu for first-class passengers on board the ill-fated Titanic has sold at auction for over £80,000.
The remarkable Titanic memorabilia fetched £84,000 at a Wiltshire, England auction house on Saturday, November 11.
Despite signs of water damage, the 6.25 x 4.25 inch menu carried insights into the extravagant experience of first-class travellers just days before the Titanic sank.
Dated April 11, 1912, shortly after the ship had sailed from Queenstown, Ireland, the menu boasts a lavish five course meal including oysters, consommé, roast duckling and lamb with mint sauce.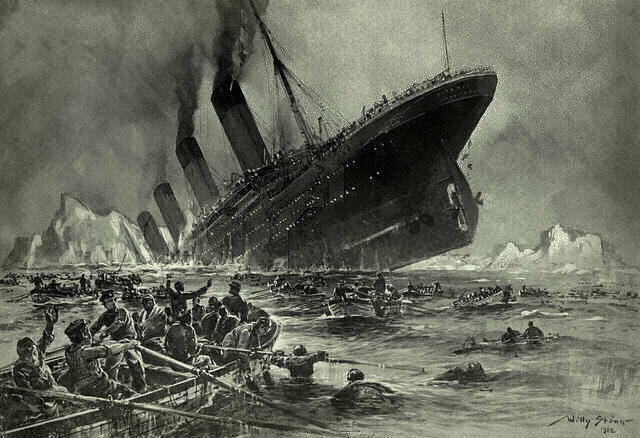 German illustrator Willy Stöwer's take on the sinking.
Auctioneer Andrew Aldridge of Henry Aldridge & Son commented: "Having spoken to leading Titanic memorabilia collectors globally and consulted numerous museums, we can find no other surviving examples of a first class April 11 dinner menu. The menu is a remarkable survivor from the most famous ocean liner of all time."
The ill-fated passenger liner RMS Titanic struck an iceberg on April 14, 1912. It sank in the freezing Atlantic waters the next day, resulting in more than 1,500 deaths.
Papers from the vessel are extremely rare. It is believed this item was probably carried from the ship by a survivor.
It was found in a 1960s photo album belonging to historian Len Stephenson, a Canadian, who preserved many local history artefacts concerning his hometown Dominion in Nova Scotia. Nova Scotia was the closest land to the Titanic disaster and many victims were buried there.
In the same sale a pocket watch sold for £97,000. It was carried by Sinai Kantor, 34, a Jewish refugee from Russia, who died in the tragedy. His wife Miriam, with whom he was immigrating to the US, survived.
Gilt lettering of the OSNC (Ocean Steamship Navigation Company) has been erased by water exposure but the red flag of the White Star Line flag is still visible on the 6.25ins by 4.25ins document.