LeBron James' high school basketball jersey could sell for up to half a million dollars when it hits the block at Goldin Auctions next month.
James wore the jersey in 2002, when he became the first high school underclassman to appear on the cover of Sports Illustrated, announcing himself on the national stage as a future NBA superstar.
LeBron James is widely regarded as one of the greatest basketball players of all-time, and is often ranked second only behind Michael Jordan.
He began attracting attention in 2000 as a freshman at St. Vincent–St. Mary High School in Akron, Ohio, leading their basketball team "The Fighting Irish" to the state championship and then repeating the feat in his sophomore year.
No high school basketball player had ever received the attention or the hype that LeBron James faced. During his senior year in 2002-2003 his games were offered on pay-per-view cable, and one was even broadcast nationally on ESPN2.
After graduating in 2003 he became only the 21st player in history to step straight from high school basketball to the NBA, a move known as going "prep-to-pro", and was signed by his hometown Cleveland Cavaliers at the #1 pick in the NBA draft.
Such was James' precocious talent that in February 2003, whilst still in his junior year, he appeared on the front cover of Sports Illustrated with the headline "The Chosen One".
During the shoot James was photographed wearing his #23 jersey, and that same night he wore it on court as he led his team to victory against the Archbishop Hoban Knights.
The jersey has been expertly photo-matched to both the Sports Illustrated cover and the subsequent game, and will now be offered at auction for the very first time.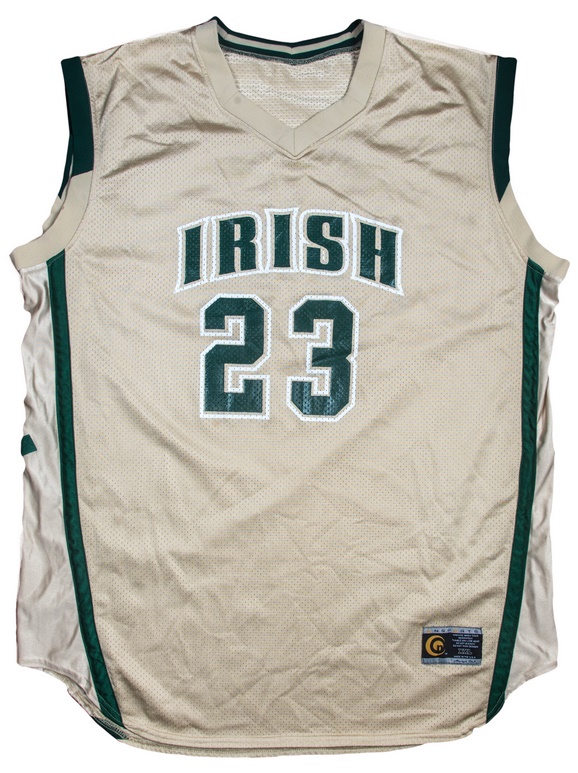 Initial bidding started at $25,000, and had already passed $34,000 with 25 days to go, with experts speculating that it could fetch a mid-six-figure sum in the region of $500,000.
The auction record for any piece of LeBron James was set in 2016, when an ultra-rare rookie card from his debut season with the Cavaliers sold for $312,000.
None of James' game-worn jerseys have ever sold for more than $100,000, including the Cavaliers jersey he wore during games 1 & 2 of the 2015 NBA finals, which are regarded as two of the greatest performances of his career.
However, a strong six-figure result would see the value of his most significant jerseys leap into a price bracket previously held by Michael Jordan, who remains the sport's MVP when it comes to memorabilia.
"Few players transcend their sport and few collectibles transcend the industry," said Ken Goldin Founder of Goldin Auctions.
"When you combine those two elements into one item records are broken and that is what we fully expect with this historic high school jersey of the world's most recognizable athlete of this generation."
The Goldin Auctions October Legends sale runs online until October 19.