An incredibly rare and significant Olympic torch from the 1968 Winter Games in Grenoble will lead a sale of Olympic memorabilia at RR Auction next week.
The torch is the top lot of more than 150 items, in a dedicated sale spanning over a century of Olympic history which runs online from January 10 until January 17.
The torch is one of only 33 examples produced for the 1968 Grenoble games, making it one of the rarest Olympic torches in the world.
And it bears an even greater significance, as it was used by celebrated French wrestler Daniel Robin to light the Olympic cauldron during the event's closing ceremony on February 18, 1968.
Later that year Robin won two silver medals at the 1968 Mexico Olympics, and he is regarded by many as the greatest French wrestler of all time.
Having remained in his personal collection for 50 years, the historic torch is now expected to sell for more than $200,000.
In recent years, thousands of torches have been produced for use during the Olympic relays, making them relatively easy for collectors to acquire.
12,000 torches were made for the most recent 2016 Rio Summer Olympics, and examples can be found for around $1,000 – $2,000.
However, earlier torches from the 20th century were usually made in far smaller numbers, and a handful can command huge sums at auction on the rare occasions they come up for sale.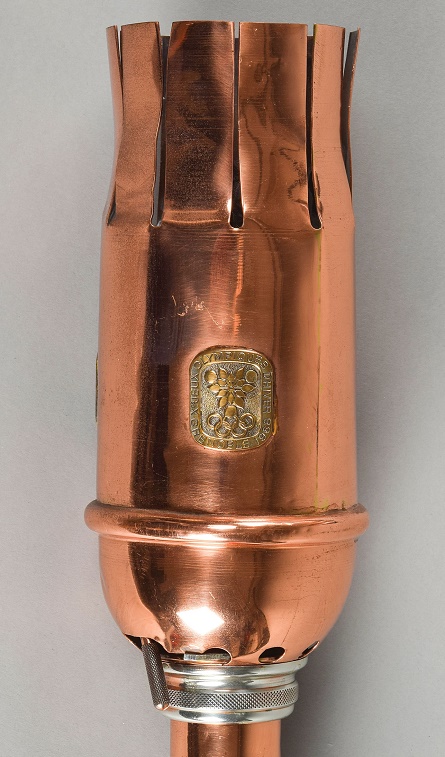 The current auction record for an Olympic torch was set in 2015, when an example from the 1952 Helsinki Games sold at Graham Budd Auctions in the UK for £420,000 (approx. $650,000).
Just 22 torches were manufactured for the Helsinki Games, and the majority are owned by museums. It's believed that just two private collectors own a complete set of Winter and Summer games torches including the Helsinki torch.
Further sought-after Olympic torches on offer at RR Auction will include a Lake Placid 1980 Winter Olympics torch estimated at $30,000+; a Tokyo 1964 Summer Olympics torch valued at $10,00+; a Nagano 1998 Winter Olympics Torch estimated at $6,000+; and a Rome 1960 Summer Olympics torch priced at $6,000+.
Elsewhere the auction will offer a treasure trove of medals, diplomas, vintage posters, programs and other memorabilia, from the Paris Summer Olympics of 1900 to the PyeongChang Winter Olympics in 2018.
Notable lots include a complete set of Gold, Silver and Bronze medals from the Lake Placid 1980 Winter Olympics, estimated at $25,000+; a Gold winner's medal from the Rio 2016 Summer Olympics, valued at $60,000+; and a participation medal from the St. Louis 1904 Summer Olympics, estimated at $20,000+.